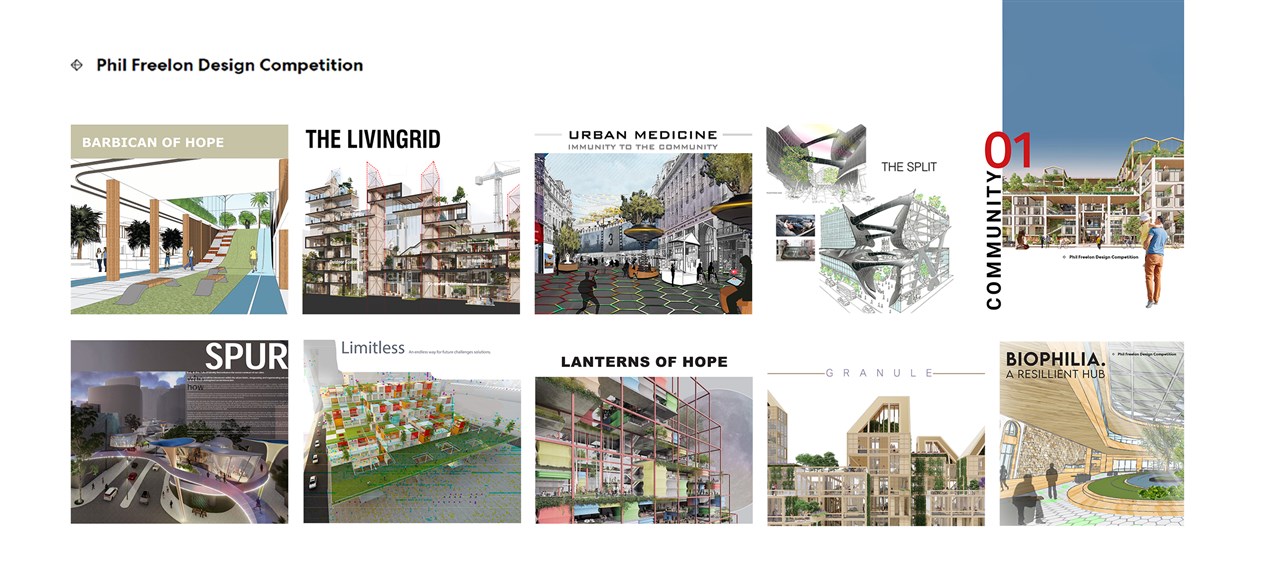 Date08.04.21
CompanyDar, Perkins&Will
The ten Dar design teams shortlisted for the Phil Freelon Design Competition 2021 responded to the London-centric "Future of Everything" challenge with designs that emphasise modularity, flexibility, and adaptability while also incorporating smart technologies and doubling down on post-pandemic essentials such as daylighting, natural ventilation, flexible indoor spaces, and self-sufficiency.
Architects and interior designers from Dar's international offices contributed imaginative and innovative designs for transforming landmark locations in London into more resilient and more sustainable spaces that could adapt to post-pandemic challenges. These designs were responses to the "Future of Everything" challenge set by Perkins&Will's Phil Freelon Design Competition 2021.
The annual firm-wide competition is a long-standing tradition, one that has become a critical part of Perkins&Will's culture of curiosity, creativity, and innovation.
For this year's competition, teams were tasked with reimagining one of three existing sites within London, each with a design scale. The urban scale focused on proposing a new ambitious and exciting vision for the Culture Mile, a prominent mainstay in London's arts and culture scene. The building scale considered how a strategic plot between Greshman Street Block and the historic Guildhall could potentially be developed post-pandemic and post-Brexit. And the interior scale imagines how existing vacancies – prominently, an unused space in the Barbican – can be reprogrammed, appropriated, and retrofitted to support the city and its inhabitants.
Participants were encouraged to integrate five Living Design Perspectives – Sustainability, Resilience, Regeneration, Inclusion, and Well-Being – in their design responses and solutions.
All designs were carefully evaluated by a panel of prominent external jurors including Ola Obardara, Director Property Projects Group for the City of London Corporation; Jeremy Melvin, design critic and journalist; Amanda Levete, founder and principal of AL_A; and Jeremy Myerson, Helen Hamlin professor of design, Royal College of Art.
Lanterns of hope – a playful building-scale design inspired by St. Martin and traditions of lantern processions and prepared by Dar Cairo's Islam Magdy, Omar el Garhy, and Haguer Sami – was the highest-ranked Dar entry, winning second place in the competition. Lanterns of Hope imagines a playful beehive atmosphere featuring customisable cubicles and easily assembled/disassembled light structures. Units can alternatively serve as public and private spaces, including marketplaces, arts and culture, shelters, co-working spaces, and even micro-farming.
The competition attracted 73 entries, and ten Dar teams made a shortlist of 26 projects. All design visions can be viewed on this dedicated website: The 2021 Phil Freelon Design Competition