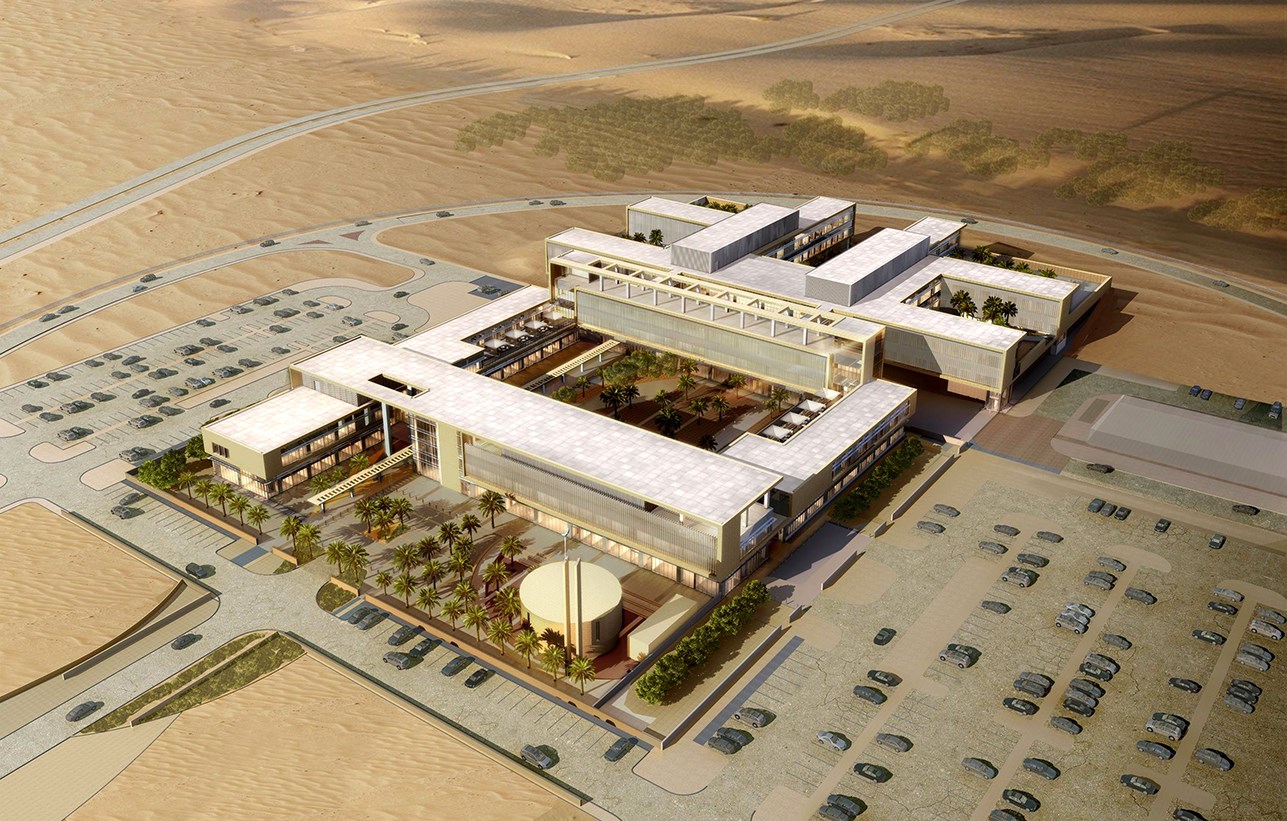 The Hospital consists of ground, first and second floors accommodating 96 inpatient rooms, 40-room outpatient motel for psychiatric and addiction patients in addition to secure entries, diagnostic and treatment areas, administration areas, main kitchen, staff cafeteria, logistics and support area, therapy and recreation zones, and all indoor and outdoor landscaping features, electromechanical services and infrastructure utilities.
Diagrammatically, the Hospital is organized into three distinct zones:
Administrative Zone: oriented towards the front, providing a backdrop to the spiritual component of the program while defining a ceremonial entry to the complex.
Outpatient Zone: establishing a perimeter while responding to the functional demands of the program in both its accessibility and separation of Psychiatric and Addiction patients.
Inpatient Zone: The most critical area in terms of safety and security becomes the Inpatient Zone, which orients itself towards the deepest part of the diagram where it is least accessible to the general public and highly-controlled for caregivers and patients. The functional and operational planning groups the Hospital into 3 zones.
Administration, Mosque, and Education
The public zone with unrestricted access during the day includes a two-story Administration/ Education building. The ground floor of the Administration/Education building includes spaces for post-graduate and general education including a 100-person lecture hall that can be divided into two large classrooms, an electronic medical library and support spaces. Two additional 30-person classrooms and five shared offices for two staff each. A two-story atrium and elevator lobby lead visitors to the upper floor housing executive administration suites for the CEO, CFO, their deputies and staff, the human resources unit and a faculty offices suite.
Outpatient Therapy, Outpatient Day Care and Residential Motels

The two Outpatient & Recovery Motel buildings framing opposite sides of the outpatient courtyard allow a separation for addiction patients in one and psychiatric patients in the opposite building. Each building has a separate designated entry lobby. Outpatient therapy functions will operate during daytime hours but the m residential motel components on each upper floor will operate continuously.
The Psychiatric Building includes four main services:
Outpatient psychiatric clinics with 33 treatment/therapy rooms,
Day care center for 20 to 25 occupants,
Residential recovery motel with 20 bedrooms for men and women
An outpatient pharmacy.
The outpatient clinics, divided over two floors, include 18 small individual therapy rooms, 12 m medium family therapy rooms and 3 large group therapy rooms with waiting, resource room, medication dispensing, exam room, and other support.
The Addiction Building includes three main services:
Outpatient addiction treatment clinics with 11 treatment/therapy rooms,
A small outpatient pharmacy,
Residential recovery motel with 20 bedrooms for men only.
Diagnostic+Treatment, Inpatient Units and Inpatient Therapy
The three-story Inpatient Hospital Building frames the fourth side of the semi-public courtyard with a façade that incorporates the main entry for public, family and visitors. The levels are organized as follows:
Ground Level: Secure entries, diagnostics & treatment, logistics and support,
First Level: 48 private psychiatric inpatient beds with therapy and recreation zones,
Second Level: 40 private addiction inpatient beds with therapy and recreation zones and 6 geriatric psychiatric inpatient beds.