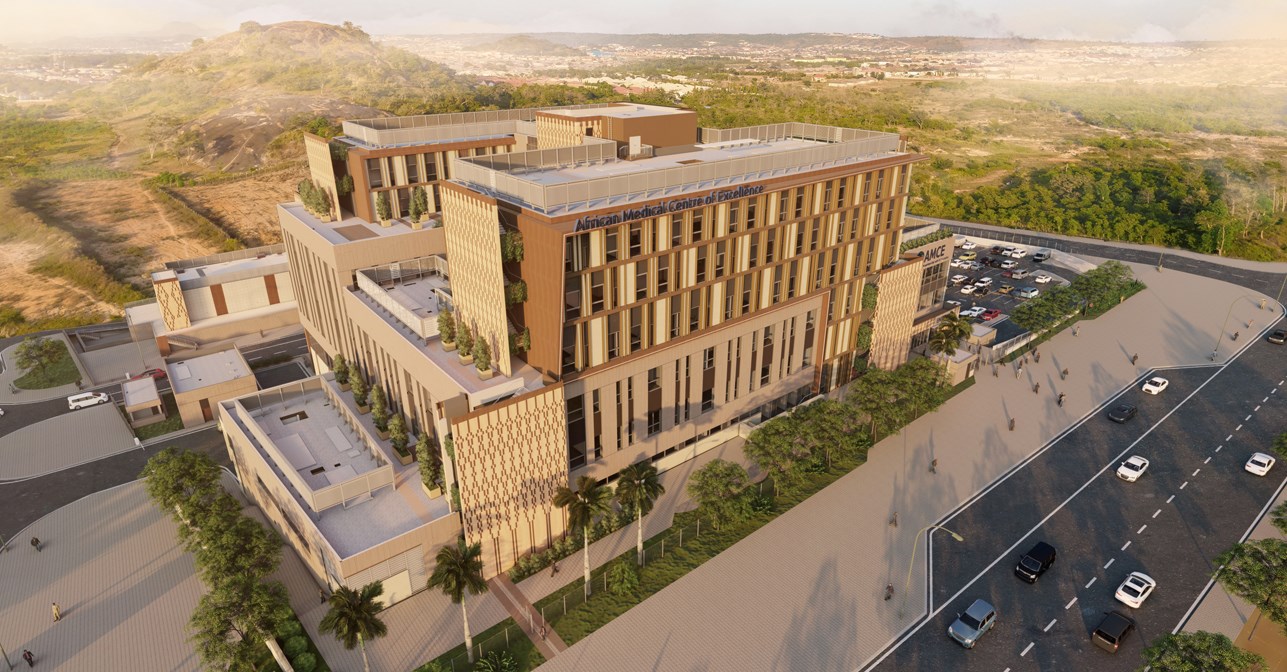 Dar has delivered the master plan and design for the African Medical Centre of Excellence (AMCE) in Abuja, Nigeria. A new state-of-the-art hospital, AMCE will set the stage for advanced and wide-reaching healthcare in Nigeria and in Africa.
The African Medical Centre of Excellence (AMCE) is envisioned to be a 500-bed secondary and tertiary healthcare institution, offering a wide range of services and specialisations. Dar was commissioned to develop the master plan conceived for a 170-bed specialist hospital at first phase, and at the final phase, a 500-bed hospital with multi-specialties and supplementary components such as a pharmaceuticals section, retails outlets and mall, academic and research centres, and hospitality and residential units.

The Centre will be operated in partnership with King's College Hospital, London, and will offer a wide spectrum of care services including oncology, cardiology, haematology, and general healthcare. It will provide the full range of medical services, including diagnostics, treatment, nuclear medicine, surgery and post-surgical care.

Dar's design prioritises patient and staff safety and comfort. The master plan was developed following studies based on vehicular and pedestrian volumes and movement to design an efficient and people-centred hospital plan. Current and future technological advancements in healthcare diagnostics and treatment methods were taken into account in addition to green and sustainable design choices to plan for future-fit facilities and utilities. Based on these studies and targets, Dar prepared the master plan for a project site covering 51,200 m2, including all the necessary facilities, MEP services, and parking spaces.

With the rise of non-communicable diseases in Africa, the African Medical Centre of Excellence sets the stage for more medical centres to be developed across Africa as part of the greater goal of providing accessible and high-quality care and addressing the shortages in clinical care options in the country and wider region.