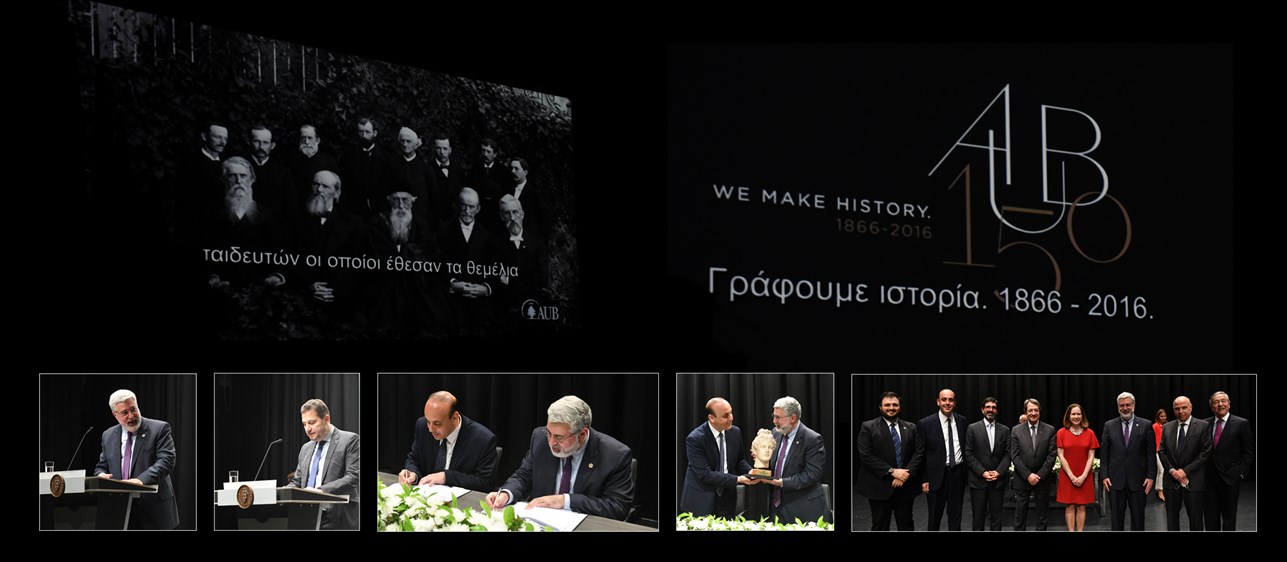 Date12.04.22
LocationPafos, Cyprus Europe
On Friday April 8th, Dar unveiled the master plan of the upcoming American University of Beirut – Mediterraneo campus, during the signing ceremony of a landmark agreement between the American University of Beirut (AUB) and the Municipality of Pafos to establish the university's first ever campus outside of Lebanon.
Dar CEO and Chairman and AUB Board of Trustees member Talal Shair, along with Director of Operations Marwan Kobrosly and Principal Semaan Kfoury, joined the President of the Republic of Cyprus Nicos Anastasiades; US Assistant Secretary of State for Educational and Cultural Affairs Lee Satterfield; Ambassador, AUB Trustee, and Chairman of the AUB International Advisory Council Frank G. Wisner; Mayor of the Municipality of Pafos Phedonas Phedonos; AUB President Dr. Fadlo Khuri; and a host of ambassadors, officials, and other members of the AUB Board of Trustees for the illustrious signing ceremony.
---
"This evening is historic and will be recorded in the calendar of this small Mediterranean town as one of the most important milestones in its 2,400-year history… The arrival of the American University of Beirut in Pafos places us on the world map of university education. Few universities around the world have the tradition, history and influence that this University has."

Phedonas Phedonos,
Mayor of Pafos.
The new campus will open in Pafos, Cyprus and welcome its first class of students in Fall 2023. The establishment of the new campus is part of the university's "Global AUB" vision which includes expanding in the region, exploring the establishment of hubs in Africa, planning for a greater presence in Northern America, and growing the university's online offerings – all while keeping the university strongly rooted in Beirut.
Dar's Director of Operations in Beirut Marwan Kobrosly said that Dar's master plan and involvement in the new campus is "only an example of the continuous support of our Chairman Mr. Talal Shair and Dar's commitment to AUB's role in the region." The significant historical partnership between Dar and AUB originated in 1956 with Dr. Kamal Shair and his three partners who founded Dar while they were AUB professors. This relationship has been strengthened since then by the generations of AUB alumni who worked and continue to work at Dar and by the projects the two entities have conducted together and now constitutes a significant alignment of knowledge, capabilities, and expertise towards meeting the contemporary challenges facing the industry and the world today.
Featuring Greek architecture and a focus on sustainability and greenery, the AUB-Mediterraneo master plan, presented by Mr. Semaan Kfoury, roots the campus in its surroundings, honouring the site's industrial past, while also engaging in an overseas dialogue with the original Beirut campus – an ideal combination as AUB seeks to grow more global, more diverse, and more inclusive.