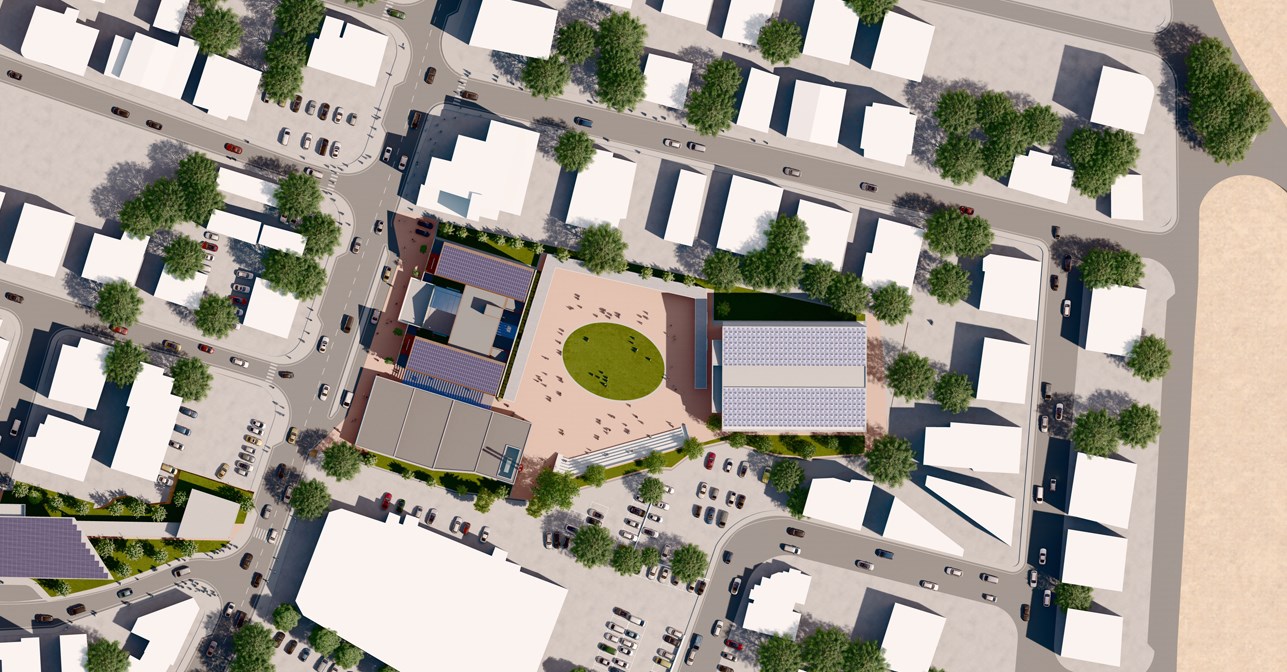 Dar prepared the master plan of the American University of Beirut – Mediterraneo, the first campus established by the American University of Beirut (AUB) outside of Lebanon. In line with the university's "Global AUB" vision, the new campus is designed to enrich the interchange of ideas, knowledge, and purpose already taking place in the Beirut campus, empowering the university to serve a broader audience and to become more global, more diverse, and more inclusive.
Set in a strategic location roughly between the city centre of Pafos and the touristic area, the new campus will incorporate and showcase leftover traces and memories of its site's industrial past, through the preserved stone walls of the former Carob Mill Warehouse, which will envelop the twin campus' 3,488 m2 new main administration building.
The new campus will be anchored by a Greek Plathea, or large open plaza – a void at the centre of the site, echoing the Beirut campus' famous Green Oval and serving as a community space that attracts students and visitors and hosts events, talks, workshops, lectures, and shows as a centre for cultural exchange. With a stoa for protected passageways, green public spaces, and seating, the grand open space grants access to the site's three main buildings: its main administration building, an adjacent auditorium and facility building (1,000 m2), and a 4,611 m2 classroom block housing student classrooms and labs.
The design of the new campus is also engaged in overseas dialogue with the original Beirut campus, reimagining and echoing iconic and instantly recognisable features such as the Beirut Campus' main gate and its clock tower.
The master plan also covers the second phase of the campus, which will feature a main academic building with classrooms and labs, a new multipurpose hall, and extra spaces for administration and facilities.
With skylights, greenery, and photovoltaic panels featuring prominently, the campus will form a vibrant, attractive, and sustainable destination.