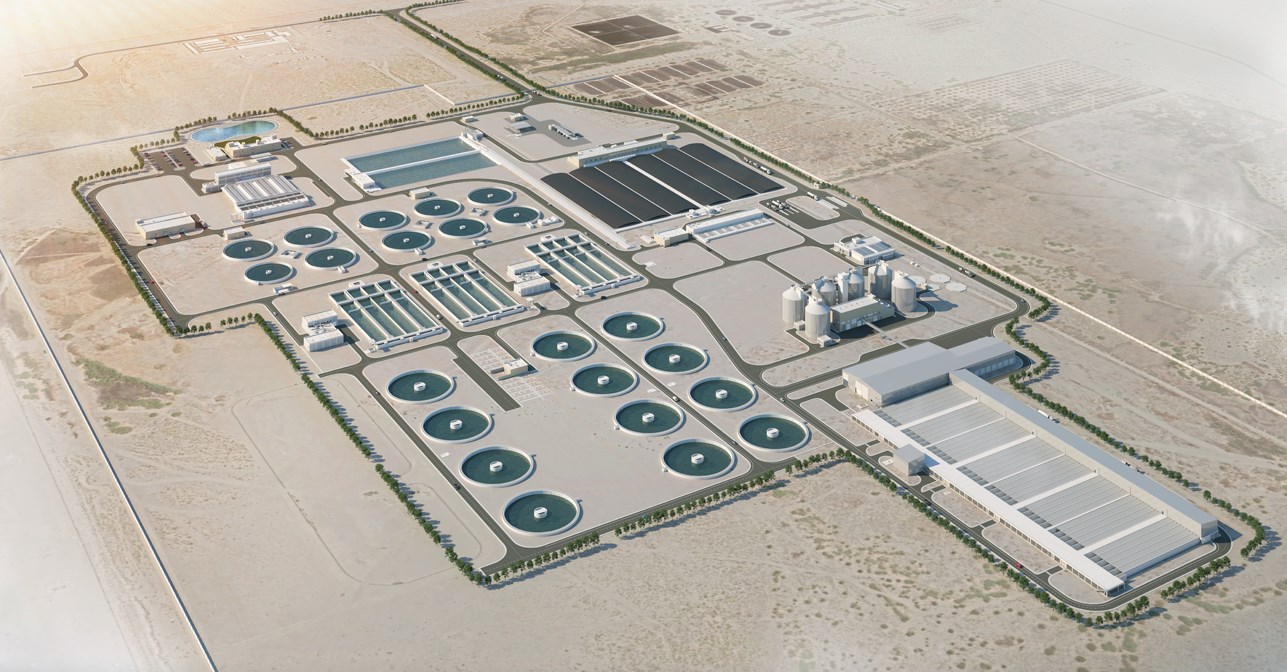 Expanding a Kuwaiti Sewage
Treatment Plant
One of the world's largest and most ambitious wastewater treatment schemes, the Umm Al Hayman Wastewater Treatment Plant has the ultimate capacity to treat 700,000 m3/day of wastewater, producing water and even compost for agriculture and industry and transforming Kuwait's water sector.
For this transformational project, Dar prepared preliminary and detailed designs, a BIM model, and tender documents; provided PPP support services; set an environmental management plan; and was responsible for ensuring design conformity during construction. The project comprised five components: the first phase of the wastewater treatment plant, the Egailah and Sabah Al Ahmad wastewater pump stations, the emergency sea outfall, and the TSE reservoir and pump station.
Wastewater Treatment Plant Phase 1
The first phase of the treatment plant has an initial capacity of 500,000 m3/day and comprises:
Terminal (Inlet) wastewater mixing chamber;
Preliminary treatment - inlet facilities;
Tanker discharge station;
Influent buffer tank;
Primary treatment with by-pass facilities;
Secondary and tertiary treatment;
Sea (emergency) outfall and effluent pumping station;
Central operation building;
Sludge treatment facilities including composting facilities;
TSE disinfection, storage, and discharge facilities; and
Odor control unit and auxiliary facilities.
Egailah and Sabah Al Ahmad wastewater pump stations
The project also included the upgrade of the existing Egailah wastewater pump station to cater for a capacity of 8.3 m3/s. The effort included upgrading an existing pump station to reach a capacity of 6.8 m3/s and constructing a new pump station, with a capacity of 1.5 m3/s, within the same site. On the other hand, the Sabah Al Ahmad wastewater pump station has a capacity of 2.18 m3/s, and includes a GRP potable water tank and pump station as well as an admin building and guardhouse.
Emergency sea outfall
The emergency sea outfall comprises an inlet structure at the site of the plant as well as a discharge pumping station with a capacity and design flow of 13 m3/s. A 3.75-km-long underground pipeline (reinforced concrete) runs from the plant to the shoreline, complemented by a 2.0-km-long offshore pipeline (reinforced concrete pipe, to be constructed using micro-tunnel technology).
TSE reservoir and pump station
Finally, the project comprises a TSE reservoir with a capacity of 100,000 m3 and an associated pumping station with a capacity of 2.18 m3/s.