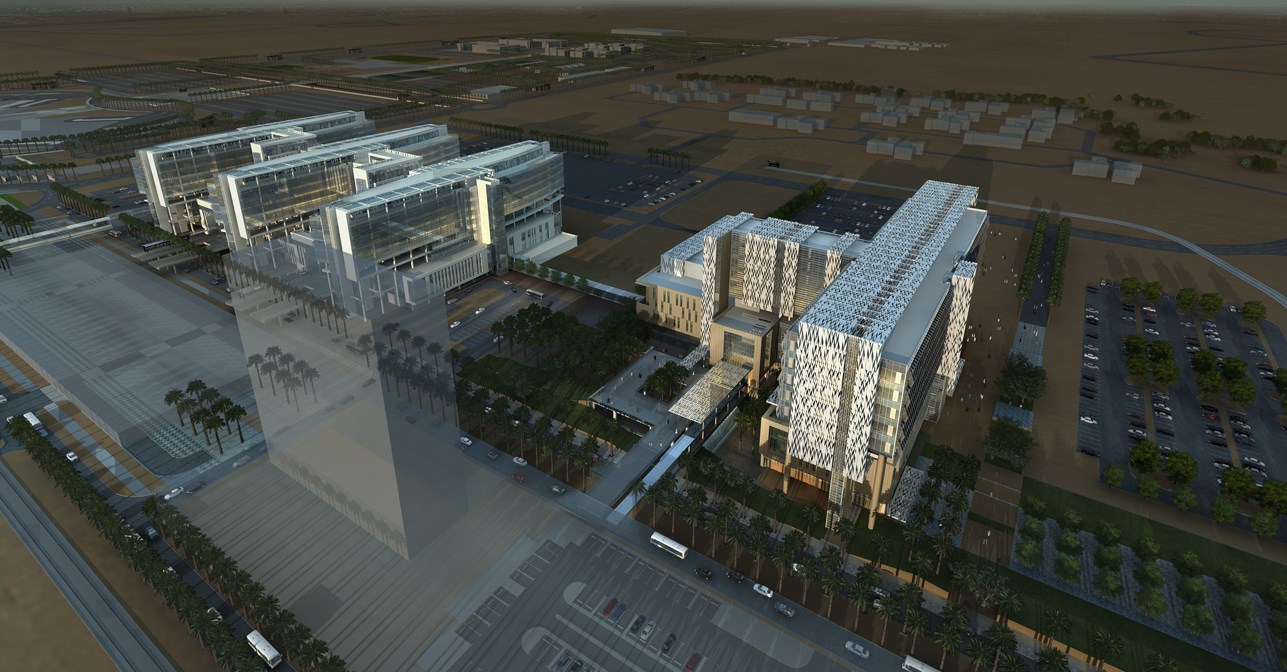 The Specialised Gynaecology and Maternity Hospital at the King Saud Bin Abdulaziz University for Health Sciences in Riyadh is a 284-bed hospital providing a full range of women's health services including labour and delivery, C-section surgery, gynaecological surgery, and intensive and intermediate care services for new-borns. The hospital is strategically designed and constructed south of the King Abdullah Speciality Children's Hospital, with the two hospitals connected with a multi-storey linking bridge that provides connections between the related services of both facilities. Equipped with state-of-the-art medical equipment and future-fit facilities, the hospital is LEED-certified for its sustainable and patient-centred design.
Dar prepared the detailed design (under BIM management) and tender documents, conducted medical equipment planning, and supervised the construction of the new hospital.
With a built-up area of 70,650 m2, the Specialised Gynaecology and Maternity Hospital has a capacity of 284 beds: 188 adult beds and 96 neonatal beds. The hospital provides a full range of services related to women's health, with labour and delivery suites, an in-vitro fertilisation clinic, a maternal and foetal medicine clinic, a breast health clinic, and a general obstetrics and gynaecology clinic.
On the ground floor, the labour and delivery suites (including three C-section and four gynaecological operating theatres) feature along with a 30-bed neonatal intensive care unit and a full imaging department that supports both outpatient and inpatient services. The outpatient gynaecological surgery unit is on the second level beside a 30-bed neonatal ICU and a 36-bed neonatal intermediate care inpatient unit. In the tower rising above the diagnostic and treatment platform, the hospital houses two post-partum inpatient floors, a gynaecology inpatient floor and an ante-partum inpatient floor.
The women's hospital is constructed to the south of the King Abdullah Specialty Children's Hospital (KASCH) and connects to KASCH via a multi-storey linking bridge to provide connections between the services of both facilities.
The general public can reach the women's hospital via a vehicular access on the west side at both the ground level and the first level. Mothers in labour can use the urgent care public entry on the south side of the building, with dedicated public parking spaces located in the vicinity to facilitate their entrance. Parking spaces for the general public are located to the east of the hospital, across from the looping public access road that forms the health care zone of the KSAU campus.
The east side of the hospital is the service portion of the facility with a large loading dock, facing a new Women's Hospital utility building.
The hospital is LEED certified and meets international standards for sustainable design.