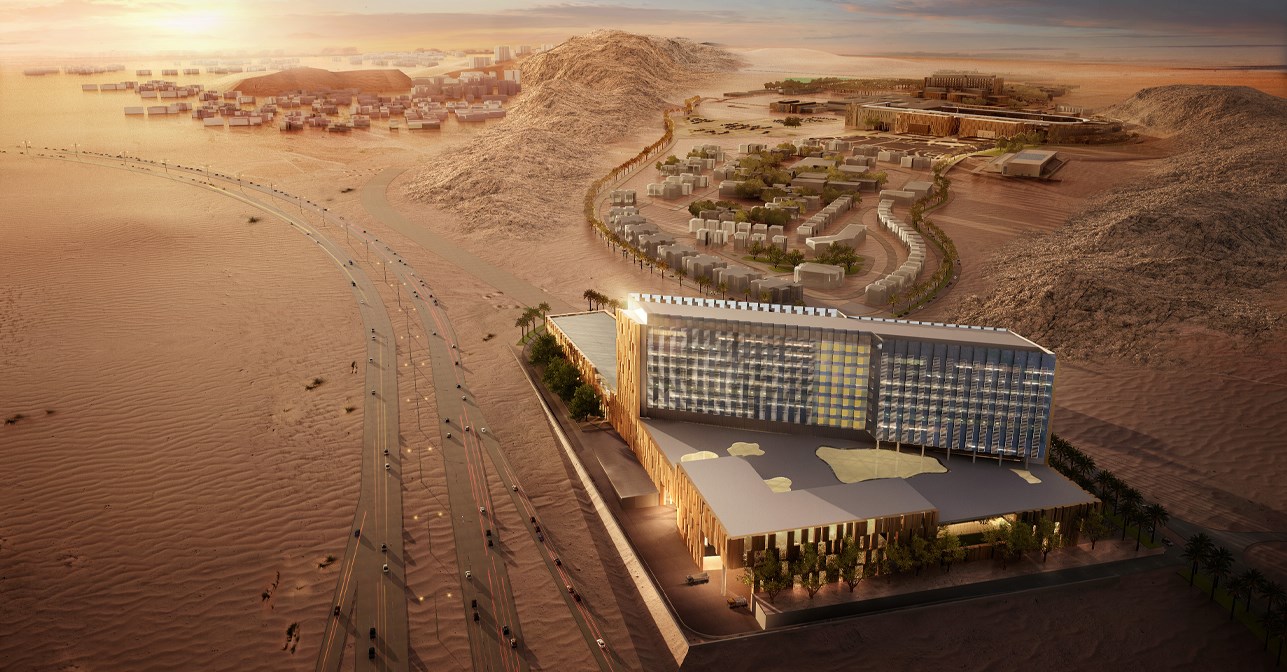 Located at the southern tip of the King Saud bin Abdulaziz University for Health Sciences campus in Jeddah, the King Abdullah Specialised Children Hospital is a state-of-the-art healthcare facility, designed and developed to provide advanced paediatric care and treatment. Colourful and warm, the hospital provides a calm and soothing setting and positive and safe healing environments for children and their families.
With a built-up area of 100,249 m2, the LEED-certified ten-storey facility comprises 346 beds, including 40 beds dedicated to paediatric intensive care, 15 to neonatal intensive care, and 15 to bone marrow therapy. The hospital's program also includes an oncology department, a surgery department with ten operating rooms, ambulatory clinics with 84 examination and treatment spaces, and an emergency department with 44 examination and treatment spaces. In order to support capacity-building and medical training, the hospital also comprises education facilities and a conference centre. All of these facilities are easily accessible from the main entrance, with clear wayfinding systems designed to ensure quick, direct, and well-organised visitor traffic.
The main driveway to the hospital is accessed from the south gateway, which directs traffic efficiently towards the emergency entrance, the patient drop-off, and the parking deck. A separate emergency and service road provides access to the western non-public side of the development and serves to effectively segregate healthcare operational traffic from public traffic.
Dar was responsible for preparing the detailed design (under BIM management) and tender documents, conducting medical equipment planning, and supervising the construction of the new hospital. The scope also covered a new utility plant and two parking structures serving the NTCC.
As part of the design and construction of the King Abdullah Specialised Children Hospital and the nearby Neuroscience and Trauma Care Centre, a new campus data centre was designed and provided to serve the two new hospitals and to act as a redundant data centre for the existing hospital. The design of the data centre followed Tier 2+ specifications: the majority of design elements and support infrastructure conform to Tier 2 standards, and some specific enhanced requirements were provided at Tier 3 level. The data centre (total built-up area of 6,238 m²) houses approximately 240 cabinets including new network equipment and infrastructure, storage area network, systems' servers and miscellaneous equipment, existing hospital system backup, future expansion, spares, etc.
The scope also includes a new utility plant located to the north and connected to the hospital by an underground tunnel.