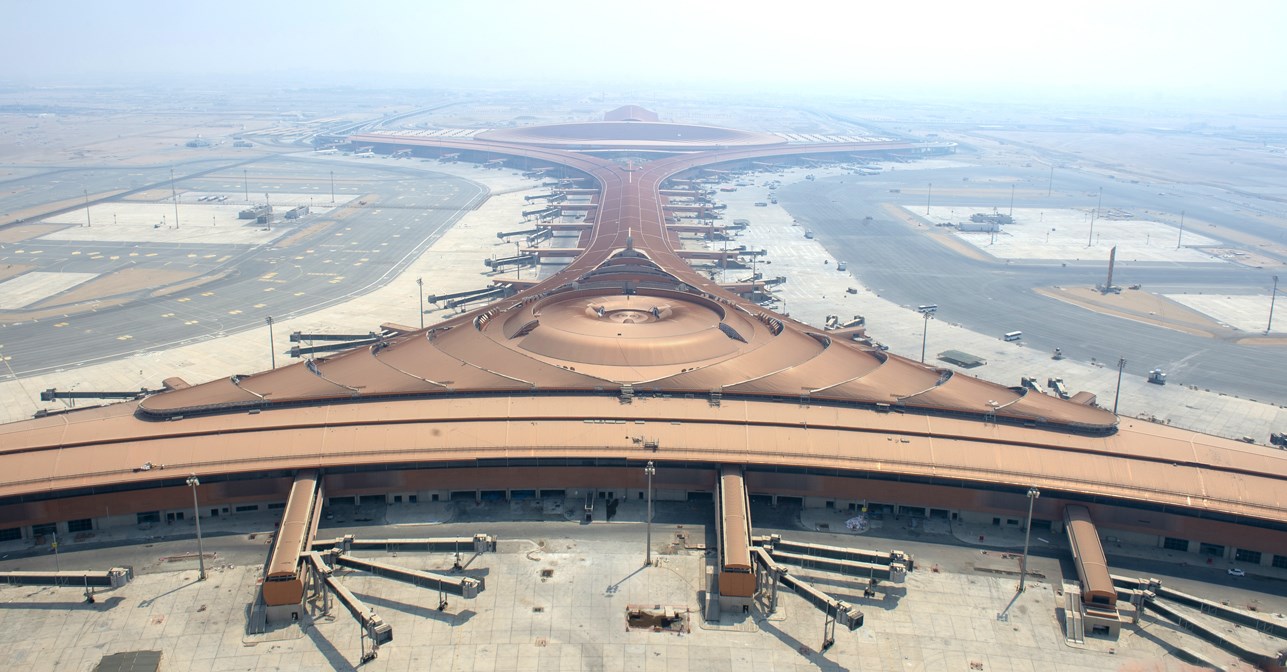 The Kingdom of Saudi Arabia's General Authority of Civil Aviation launched a venture to expand and modernise Jeddah's King Abdul Aziz International Airport (KAIA), one of the Kingdom's most important airports, into a regional hub and a multimodal international turntable. The planned expansion of KAIA in Jeddah is designed to increase the annual handling capacity in the new passenger terminal to 30 million passengers, with an ultimate phase capacity of 80 million. Since 2007, Dar has been providing program management for the multiple packages as well as design review and management and construction supervision and management services for this exceptional project.
The project involves the construction of a new passenger terminal building and its related support facilities as well as the airside and landside infrastructure which constitute the initial Phase 1 of the KAIA development plan.
The related land-use plan located the terminal in focal point between the central runway and the East runway. The development adopts a double crescent configuration for the terminal and the related subsequent future expansion satellites that will be connected with people mover and baggage handling systems.
The passenger terminal itself features an ultramodern design characterised by ease of operations, comfort of passengers, and efficiency for aircraft movement and GSE (ground support equipment). It caters for the aircraft mix anticipated to use KAIA, notably the airbus A380. The design of public areas provides for comfort and safety, and state-of-the-art systems are installed including but not limited to FIDS, departure control, building management system, data network, security, access control, flight operation management, life safety aspects, public address, baggage handling, security systems, aircraft docking, etc.
The airside infrastructure encompasses taxiways, aprons and airfield works, The landside infrastructure covers public approach and service road of the new KAIA development, which is provide with a multi-modal access system composed of a road network interfacing with a rail network and a parking complex at a node adjacent to the curb, which will be the transportation centre serving the terminal.
All in all, the new facilities in Phase 1 include:
Main facilities
Passenger and cargo terminals with associated aircraft stands, aprons and a transportation centre
Aircraft maintenance facilities with associated aprons and apron services and utilities
Airside infrastructure
Parallel taxiways
Taxiway connections to existing airfield systems
Cross taxiways connecting the new parallel taxiways and the new apron
Airfield lighting and all associated facilities
Landside infrastructure
Railway tunnel
Utility tunnel from load centre "A" to a new terminal building
Passenger access road
New airport road
Staff access road and secondary road system
Aircraft maintenance access road
Short- and long-term parking facilities
Taxi and bus holdings
Car rental and employee parking
Navigation and communication installation
UHF/VHF transmitter
R-VHF transmitter
HF transmitter + VORTAC
Other support facilities include: load centres with integrated utility corridors, a new ATC (air traffic control) tower, new main communication centres, main rescue and firefighting facilities, connections to the municipal sewage treatment plant, commercial developments of Phase 1, nursery facilities. and a mosque.
The project also includes a utility culvert: width of 12 m, diameter of 4 m, and a total length of around 9.5 km interconnecting terminal buildings. It also includes a TSE polishing plant utilising UF/RO system with a total capacity of 30,000 m³/day.
Besides its general supervision and management responsibilities, Dar also prepared an environmental scoping report coving noise and air quality modelling, audits of existing site facilities, and a detailed construction environmental management plan.