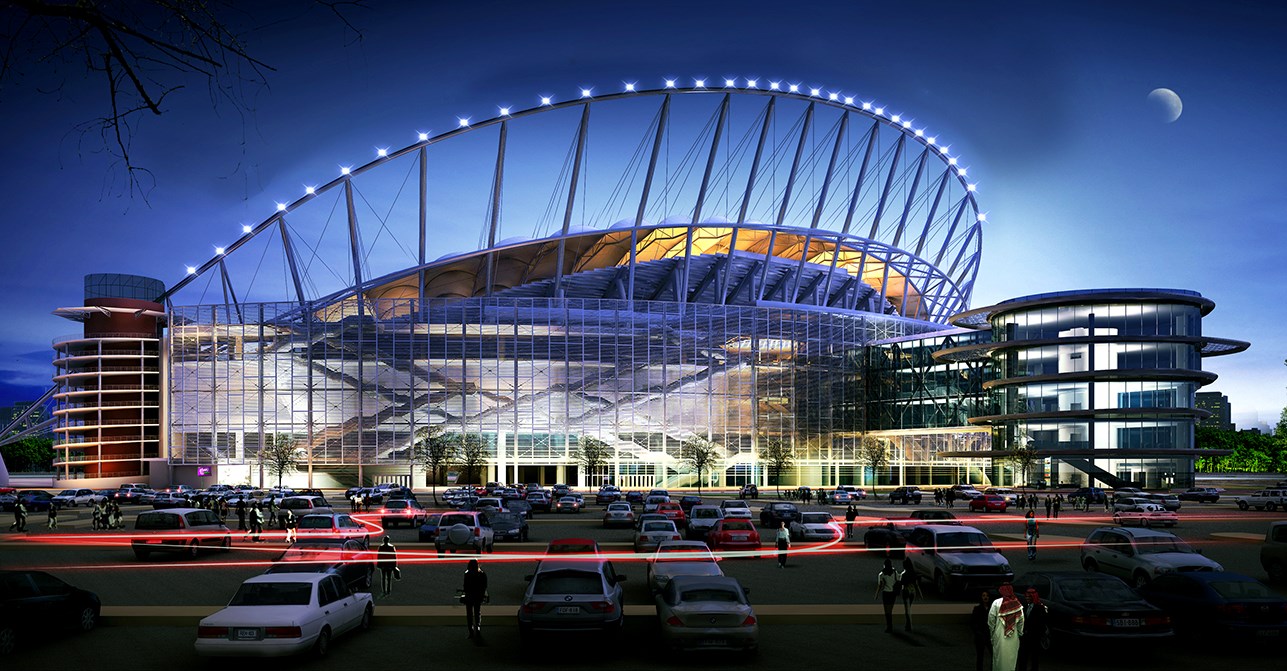 One of Qatar's most beloved sporting venues, the Khalifa Stadium is a stunning ultra-modern stadium that will be one of the key hosts for the FIFA World Cup Qatar 2022TM and a standard-bearer for Qatar's exciting sporting future. The 45,000+-seat stadium is the centrepiece of the Aspire Zone which also includes the Aspire Academy, a state-of-the-art training and education centre dedicated to developing world-class athletes, and Aspetar, one of the world's leading specialised orthopaedic and sports medicine hospitals. In 2010, Dar was commissioned to design and supervise the expansion of the Khalifa Stadium's East Stand to achieve a capacity of 45,000 permanent seats (in football mode) and an additional 15,000 temporary seats for Olympics mode. Dar's scope also included designing an outdoor cooling system and a new shading tent to create a cool and comfortable experience for athletes and crowds alike.
In preparation for the FIFA World Cup 2022TM, Dar was tasked with designing and supervising the expansion of the Khalifa Stadium's East Stand, while maintaining the architectural integrity of this national icon, particularly its signature lighting arch, which spans the entire facility, and its west grandstand with the arched roof structure.
Dar's scope also included designing and installing innovative cooling solutions and technologies that employ 40% less energy to provide a cool and comfortable environment both in the bleachers and on the playfield. A huge new roof canopy was also installed to provide shading for all spectators and to maintain a comfortable temperature for spectators and athletes.
Dar's scope also comprised landscaping, and all electromechanical, infrastructure and solid waste management systems. Electromechanical works comprised power supply and distribution, lighting, and low-current systems including voice/data structured cabling network, wireless network, CCTV, access control, master clocks, MATV, audiovisual for VIP areas, and public address and TV broadcast infrastructure. Our scope also covered the renovation of existing ELV and CCTV systems and HVAC and MEP works.
Dar also developed a subsurface drainage system, prepared a comprehensive solid waste management system, and designed the water supply, fire-fighting, wastewater collection, stormwater drainage and irrigation networks along with their relevant pumping stations and reservoirs.
The expansion of the stadium, along with accompanying renovation works, were all designed to be compliant with FIFA standards and to support the objective of transforming the Khalifa Stadium into the first FIFA World Cup 2022TM venue to earn certification from the Global Sustainability Assessment System (GSAS). In this way, sustainability became an integral part of the future of this historic venue.