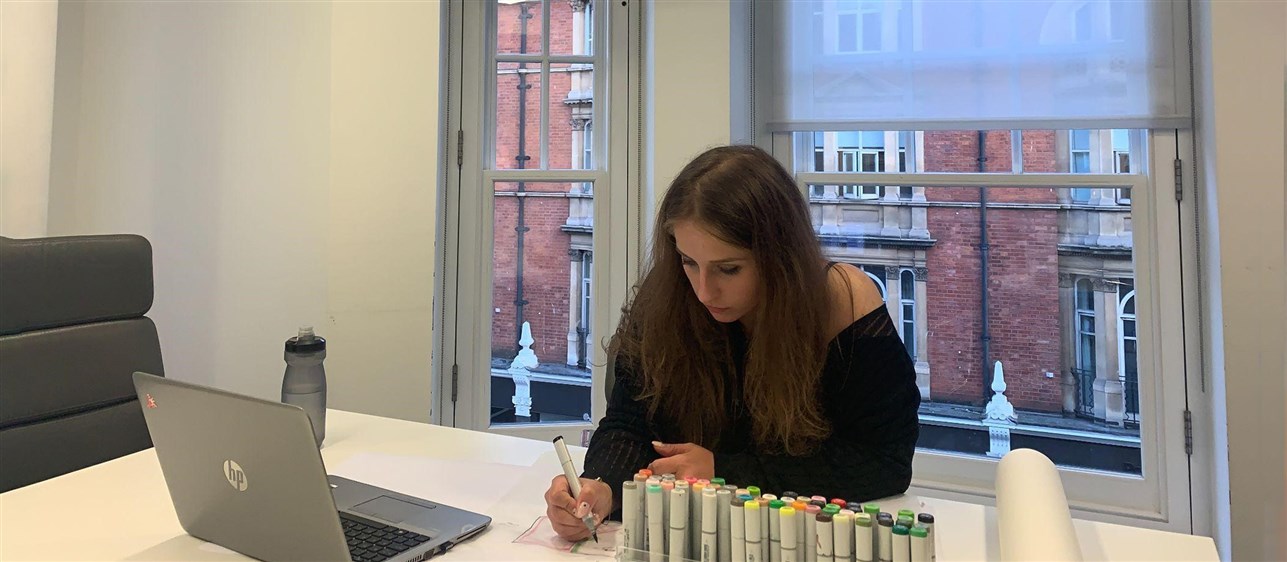 In the latest of our People Portraits, where we discover who's who in Dar's London office, today we meet Magdalena Jakubowska, part of the Planning and Urban Design team.
1. Hello Magdalena, and thank you for agreeing to be interviewed. So, can you tell us how and why you became an Urban Designer?
I was born in Warsaw (Poland), where there are architects, planners, urbanists… but no urban designers. I've always been interested in architecture and the built environment, and knew from the age of 12 that I wanted to study in London and have a career in this field. I attended an IB (International Baccalaureate) school in Warsaw, and chose subjects such as 'visual arts' as my majors to help build my portfolio for university.
I moved to London in 2013 to start an undergraduate degree in Urban Planning, Design and Management at The Bartlett, the Built Environment Faculty at University College London. The course had a balance of planning and design-related modules, working on projects based on 'real-life' examples from around the city.
After completing my undergraduate course, I enrolled into a MSc degree in Urban Design and City Planning. The focus was more on the design aspect, while still considering and addressing the planning factors. Very often we were asked to produce 'alternative' plans to current, ongoing developments in London, such as the redevelopment of Earls Court. As one of the winning teams, my group and I were given an opportunity to present our masterplan to the local residents in our first 'community consultation' – giving us practical knowledge about the real life design process.
After submitting my dissertation, I joined Dar's London office for an internship, which then turned into a permanent position as an Urban Designer. My first project with the company was the 4th Kuwait Master Plan (4KMP), which was very challenging but equally rewarding. The fast programme enabled me to travel to Kuwait during my first week at Dar, where I met Hugo Frieszo as well as the Client team. For someone who'd just left university and only joined the company a few days earlier, it was a bit of a shock to my system, but I learned a lot!
Since then, I've had the opportunity to work on a variety of projects – from regional frameworks to smaller scale masterplans that allowed me to understand planning and design from various perspectives. PUD London comprises people from many different professional backgrounds and specialisations, providing a great diversity and a rewarding environment in which to learn from each other.
2. Can you tell us a little more about what an Urban Designer does? What services do the PUD team offer? What does a typical day look like for you?
I believe that both design and planning require a multidisciplinary approach and a close collaboration with other teams. We inform and influence each other's work, and that's why a large portion of the initial tasks that we undertake as PUD includes coordination with other departments. We need a thorough understanding of the site conditions and strategic context, as well as the more intangible elements such as cultural context, local traditions and customs. All of these have a major impact on any proposed design or planning framework.
Our projects range from large scale strategic plans and guidelines on national and regional scales, to detailed, plot-level masterplans. The common element in all of these is the strategic thinking that goes behind the vision and objectives. It's so important to look at any site in its wider context, to ensure our proposal fits within the existing fabric and plays an active role in the development of the area.
The majority of our work is undertaken as a team, and a typical day would include a team meeting, design workshop or a review session. And they often involve colleagues from other departments, who influence the development of our design proposals by providing specialist advice and recommendations on certain topics. These could include climate change mitigation, designing for resilience, optimising the use of resources, and responding to local socio-economic needs that all contribute to the success of our projects.
As PUD, we also produce brochures and some of the internal marketing materials for our projects. With the help of our Graphics Team, we often design logos and come up with branding ideas for the masterplans.
3. What would you say are the biggest challenges in PUD right now?
Moving to working from home has had a significant impact on the way we work as teams, but it's also inspired our creativity on how to manage design and deliver projects in an efficient way. Most of us work on multiple projects with different departments, so coordinating team working can sometimes be challenging – especially with people working in different countries and time zones.
4. And what are you most excited for, looking ahead?
I think the rapid urbanisation happening across the globe, as well as the climate emergency, are the two most pressing issues for designers and planners at the moment. Catering for growing urban populations, and mitigating and adapting to climate change are therefore on the agenda for many of our projects. Fostering resilient communities and encouraging patterns of sustainable growth are linked with responsive and adaptive design, which involves efficiency and close collaboration with sustainability and environmental experts.
In my own daily life I always try to make the most sustainable choices and reduce my carbon footprint, but I believe as planners and designers, we have a great opportunity to make a collective impact on these matters. After all, currently over 50% of the world's population live in urban areas, with cities being key contributors to climate change (cities are responsible for 75% of global CO2 emissions!), so no pressure… but planners and designers have a huge role to play in this field.
5. Can you tell us about any projects you're working on right now?
I'm currently working on a residential component for Barra do Dande, in Angola. The masterplan consists of a major industrial and port zone, supported by residential and mixed use activities. My initial role entailed writing a research paper on the state of housing in Angola, current residential typologies and trends. We then translated that research into a revised version of the masterplan, taking into account findings on social and affordable housing in an aim to deliver a truly sustainable model of housing catering for all socio-economic groups.
6. What's been the highlight of your career at Dar to date? And what do you enjoy most?
It's quite difficult to pick one 'highlight', but I think the most challenging project so far was also one where I had the opportunity to travel frequently and engage with the clients - the 4th Kuwait Master Plan. I worked on the tourism strategy for the State of Kuwait, and was also part of the design team working on action areas that were showcasing the overall strategies of the masterplan.
During one trip, we took a helicopter trip to Boubyan Island – a natural reserve in the northern part of Kuwait, near the border with Iraq. The island is an important point on bird migratory routes and also a Ramsar (wetland) reserve. After landing on the island, we were invited on a boat trip through the natural canals, where we were able to take a closer look at Boubyan's wildlife.
Another time, we had the opportunity to visit Failaka Island, which currently consists of abandoned settlements and archaeological remains. The layers and traces of different civilisations blend together to create a unique, one of a kind destination. The plan is to reintegrate the island into the urban fabric of the country, and for it to become a major attraction.
The two things I enjoy most are working in multidisciplinary and multinational teams, and the opportunity to travel and see places that would otherwise be inaccessible.
7. How did you become a Student Consultant at The Bartlett? And what does your role involve?
Soon after joining Dar, one of my professors asked me to join her 'Strategic Planning Project' module as one of the tutors. I was then working on the 4KMP, so the project was very relevant to the students' module brief. Since then, I've been tutoring on the module each year and it brings me great satisfaction that I can share my experience and knowledge with others.
The work, part of the final module assessment, has two parts – an analysis and a strategic plan. Students work in groups of 5 to 6 people, and I usually work with about 3 groups each year. We meet on a weekly basis during our scheduled tutorial times, and discuss the progress made, any obstacles or issues the students have encountered and scope for further development. It's very rewarding to see how the groups progress, and come up with fully functioning, creative plans and solutions to the problems they identify in a given place.
8. What would you say to anyone who may be considering a career in Planning and Urban Design?
Planning and Urban Design is a broad discipline that encompasses a variety of 'specialisations'. Most of the undergraduate degrees give a flavour of these sub-disciplines, which you can then pursue in more detail. I think it's important to try a bit of everything before you decide on your main interest, as well as what you feel most comfortable with!