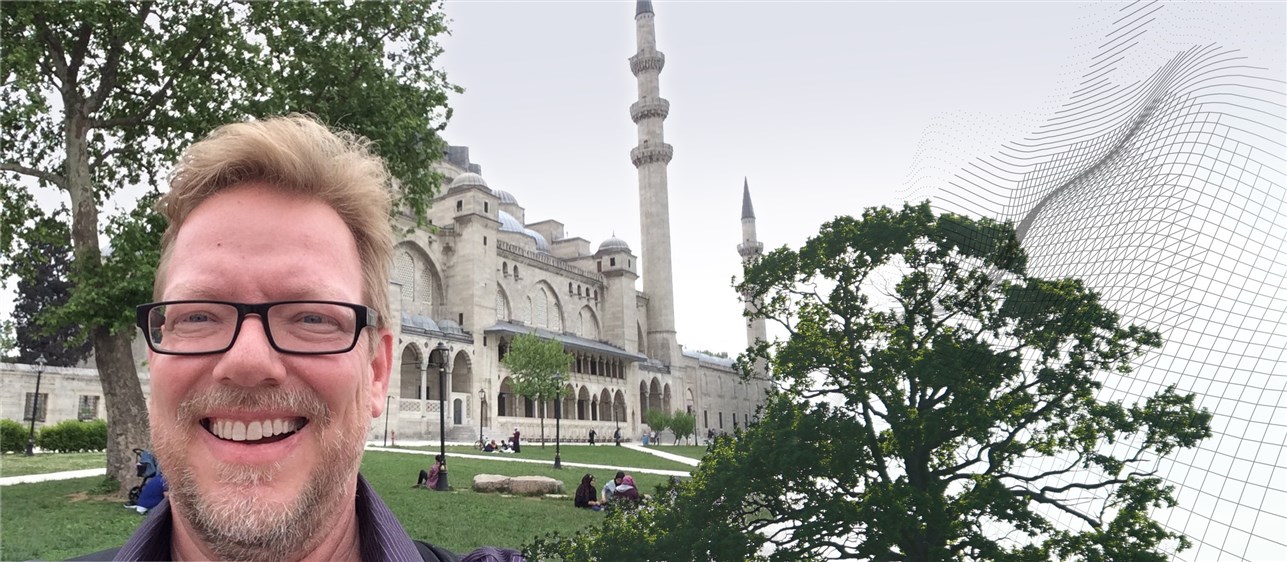 Welcome to the next in our new series of People Portraits, where we discover who's who in Dar's London office. And today we're talking to Hugo Frieszo, Principal Project Manager in our Planning & Urban Design Team.
1. Hello Hugo, and thank you for agreeing to be interviewed. So, can you tell us how you became a Principal Project Manager in PUD? What route did you take to get here?
I grew up in Asia in the '60s and '70s with my Dutch expat parents. We moved to Cape Town in the '80s where I studied Architecture, Planning and Urban Design at the University of Cape Town during a time of transition and hope, and learned the importance of balancing planning in developed and developing countries.
I met my Zimbabwean wife at university and we left Cape Town to work in Singapore in the '90s. I worked for the URA (Urban Redevelopment Authority, Singapore's land use planning and conservation authority) on various APUD projects, learning all the pragmatic disciplines as well as how Singapore sets benchmarks in so many areas - conservation, adaptive reuse, futuristic downtown master planning, local area planning, urban landscape master planning, stakeholder coordination and integration – I refer back to my time there often as it was such a formative time in my early career.
After Singapore, I did a one-year MBA as a transition back into Europe after realising that APUD does not exist in a vacuum, and needs a business case to mobilise resources. On our return to the UK, I worked in the oil and gas and planning consulting sectors, and in 2006 joined RTKL to work intensively on master planning projects all over Europe, Russia, India, and the Middle East

In 2009 I joined Dar and have been here ever since, keeping busy on master planning projects in Africa, KSA, Lebanon, and Egypt. Since 2012 I've been stationed in Kuwait, focusing on sub-regional planning, the new Zoning Code for Kuwait, and the 4th Kuwait Master Plan, which we are just finishing now.
2. Can you tell us a little more about what the PUD team actually does? What services do you offer? What does a typical day look like?
Planning and Urban Design are professional disciplines – all urban development needs a spatial plan and design – if a city authority fails to plan, they plan to fail. You need a plan, as it's a valuable reference from which all other disciplines and decisions can flow. It's the art of planning and designing the pre-conditions for elegant, efficient and ecologically-responsive urban outcomes. As a Professor once said to me 'An omelette is a happy accident but a city is not an omelette'.
We integrate a smart, sustainable, balanced approach from city planning down to neighbourhood or campus scale. This covers all the elements in an urban environment where people live, work and play, including:
environmental safeguarding and landscape structure

employment land and development (commercial/mixed use, industrial, agricultural, institutional)


mixed-use residential communities with their related amenities and facilities (parks and open spaces)

transportation

utilities
A typical day for me as a Project Manager might involve:
managing all the internal and external stakeholders

managing 360 degrees, up and down and sideways

ensuring everyone is pulling in the same direction, have what they need to do the job, and tasks are progressing well

coaching/mentoring/inspiring/championing/empathising/encouraging/motivating

listening/presenting/moderating/troubleshooting/proving/delivering

dreaming/doodling (solutions to problems)

being the glue that holds a project and people together
A Project Manager's role is both day-to-day and strategic, keeping things moving according to the agreed scope, timeline and budget… are we breathless yet?
3. What would you say are the biggest challenges in PUD right now?
Bidding for work – although we now have more than we'd planned for as so many of our bids have been successful - a nice position to be in!

Balancing the resourcing of projects – ensuring we maintain our high standards of creativity and discipline without causing burnout in staff and their work-life balance


Ensuring we remain competitive, offering the best possible service in terms of best practice approaches, supported by the best systems and skills

Managing the politics of any given situation as best we can
4. And what are you most excited for, looking ahead?
The skills, energy, joy and creativity our collective team and partners can bring to any project or challenge

I think in my grumpy middle age there is something to be said for optimism and a positive mindset, and divine strength to push through challenges

Positive changes in governance frameworks to varying degrees within our operating environments


The continual search for best practice and the joy of getting urbanity and place-making on the agenda, with all their necessary supporting systems, to improve our collective earthly lives
5. Can you tell us about any projects you're working on right now?
Completing the 4th Kuwait Master Plan work


Starting the new research project for NEOM – the new visionary 170km linear city in KSA:

Development of Planning and Design Guidelines for Neom Authority Facilities and Assets
6. What's been the highlight of your career at Dar to date? And what do you enjoy most?
All projects have had something special about them but probably the one I enjoyed most was the Physical Development Plan for the Western Sub-region of Kuwait. I was given 3000sqkm of desert to plan in the hinterland of Kuwait. The surface of the moon is prettier and more interesting. I had to validate a national masterplan that wanted a settlement of 50,000 at this desolate, isolated location, supported by some kind of employment and mixed use activity for what was essentially a derelict hinterland. Where to start? But as with all things, you start with some creativity and positivity, and you make sparkling lemonade with your lemons…
The Site Constraints or Assets : the hottest part of the world with the highest solar exposure.

How do you creatively turn a constraint into an opportunity?

An ecologically-responsive approach using the negatives as opportunities

We did some research and found The Sahara Forest Project and brought them on board.

Their mantra: use what we have too much of and need less of (pollution, sand, seawater) to make more of what we need more of (clean energy, clean air, clean water and food)'
We used this to plan and design a sub-regional green grid of renewable energy parks and desert farms of evaporative cooling greenhouses for food and water production, intersected by a GreenTech Corridor of development manufacturing for the Green Economy and locating ecologically-responsive new supporting settlements. The project featured in a Dar magazine (Issue 08, 2015), and was well received, I was able to be creative, and all stakeholders were aligned to receive it positively.
7. What would you say to anyone considering a career in planning and urban design?
Do your research and try a base degree first for 3 years to see if you like it.

Do you have an interest in cities and how they work? What does urbanity mean to you?

Does it upset you to see bad planning and the impact it has on the environment, society and communities?

Is there a passion brewing within you? Like all pursuits, there is discipline and hard work involved, so if you feel something for the subject matter already, that's a good sign

I like Winston Churchill's definition of success: 'Never, never…….give up!'

---