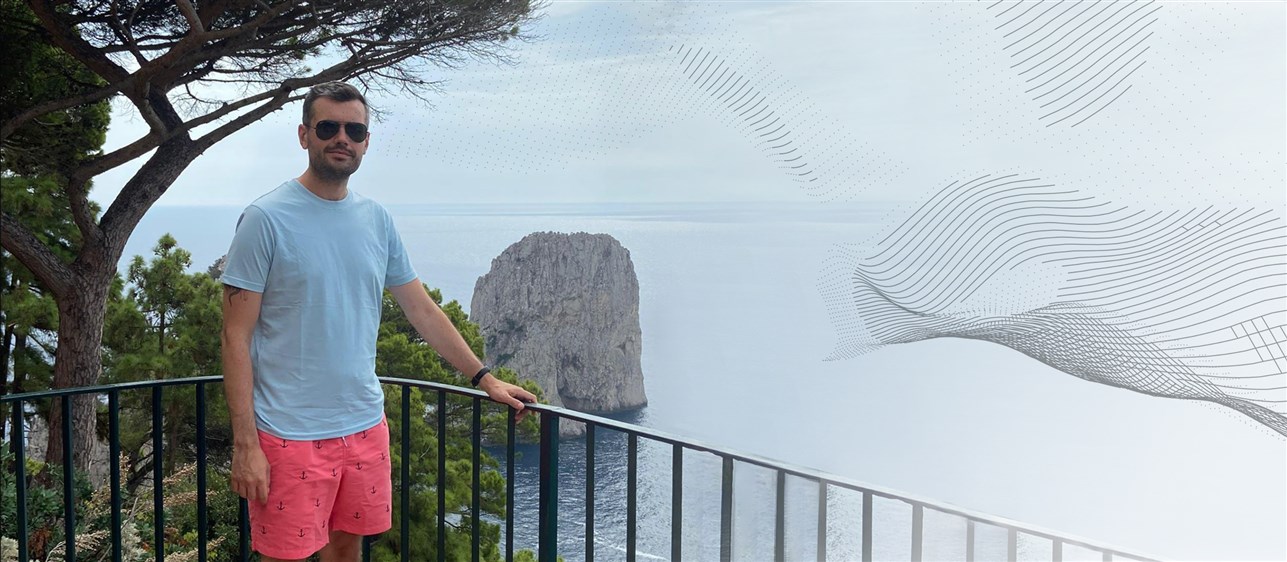 Date31.03.22
CompanyDar
LocationUnited Kingdom Europe
In the latest of our People Portrait series, we talk to Daniel Cope, Senior IT Support Technician in Dar's London office, to find out more about how he's helped keep our computer and network cogs and wheels running so seamlessly for over 11 years.
1. Hello Dan, and thank you for agreeing to be interviewed. Can you tell us how you became a Senior IT Support Technician?
I was always interested in computers at school, however I never knew it would end up as my profession. After I finished school at 18, I was offered a role in administration for a medical publication company in Farringdon. Quite soon after joining this company, the management realised I had a knack for computers and put me into their IT department. The rest kind of set itself from there and here I am today.
2. And what route did you take to get to where you are now?
After being moved into the IT department at my last company, I learned on the job and gained the necessary certifications via Comptia and Microsoft, with guidance from some of my more senior team members. Then, after two years there, I left and joined Dar.
Being the first and only full-time IT member of staff for Dar London I had to diversify my skill set. As there are so many work streams within IT I've not specialised in any one topic. Instead, I've had my hand in each iT workstream and built a solid foundation from networking to security, to servers and infrastructure, and so on. This for me has been of great benefit and something I take pride in.
3. Can you tell us a little more about what a Senior IT Support Technician does? What services do you and your team offer? What does a typical day look like for you?
My role as it currently stands is pretty diverse. I handle my infrastructure duties for Dar UK and our global cloud environment, Cedar. I now manage another team member, Matthew Willis, and I've tried to become more of a leader and role model for him.
I'm also part of the design team for 150 Holborn (Dar Group's new UK headquarters) which is where I spend most of my time at the moment.
On top of this, we have procurement, procedures/policies and co-ordination with our wider global Dar IT team, without whom I really couldn't be where I am now. They do some really great things for us behind the scenes, which most of our end user colleagues don't see from a day-to-day point of view.
4. What would you say are currently the biggest challenges facing businesses and their IT environments now, and in the future?
Working life has changed dramatically since the start of the pandemic. From an IT perspective, agile/flexible working has been growing massively over the last five years or so, and COVID-19 has accelerated that. Behind the scenes, we've needed to have the right infrastructure in place to support all of our users working at home at the same time. All over the world, more and more services have been pushed to a cloud environment and Dar is no different. We have been investing heavily in our global data centre, Cedar, which is now hosted in London.
Cedar provides central services such as Sharepoint (Insidar/onedrive) as well as email services, security, archiving, backups and so much more. Furthermore, SMART technology is growing, such as the IoT (the Internet of Things is a network of physical objects embedded with sensors and software to connect and exchange data over the internet).
These services are being deployed pretty much everywhere, from your home to commercial offices and even Smart Cities such as the New Administrative Capital in Egypt. Once we've moved into our 150 Holborn office, hopefully all our colleagues will see the benefits of this type of technology.
5. And what are you most excited for, looking ahead?
Personally, I'm looking forward to seeing all of our SMART systems installed within our new building. I see SMART technology combining MEP (mechanical, electrical, and plumbing services) and IT services in order to improve efficiency, productivity, and well being. This industry is still in its infancy, I feel we are only at the start of seeing the full potential it can offer.
Additionally, as mentioned earlier, flexible working is now huge, so working on the move from anywhere is going to be a big factor. Technology such as mobile regeneration in hard to reach areas like the Tube and remote locations will become even more important in the future.
6. Can you tell us about any projects you're working on right now?
I am working on two main projects at the moment. As well as being on the design team for 150 Holborn, I'm also currently working with some of my colleagues in Beirut on moving our infrastructure from Wigmore Street to a co-location in London.
Both of these are highly critical to the business and have needed a lot of attention to ensure successful planning and deployment. I am confident of both projects' outcomes and am looking forward to their completion, when I can finally see the theory all paying off.
7. What's been the highlight of your career at Dar to date? And what do you enjoy most?
I have had many highlights during my last 11 years at Dar so picking one is difficult. I remember a Sunday morning back in 2014/2015 where I was called in and ended up being at the office for over 48 hours due to an ongoing storage issue.
I think being asked to work on the 150 Holborn project however has definitely been the highlight for me. Considering I hadn't worked on a project of this magnitude before, I feel the trust shown me by the management was a real confidence boost. I have done everything in my power to ensure this project is a success from my side, and have worked with some really great people along the way. What I have learned over the last 3-4 years on this project cannot be replicated and I will be forever grateful for the opportunity.
8. What would you say to anyone who may be considering a career in IT Management
and Support within the Built Environment?
For anybody considering a career in IT I would honestly say the opportunities within the industry are endless and, if you put the work in, you can achieve anything. Once you get your foot in the door, you can study the landscape and pinpoint exactly what you want to do, and then work at it. Take any time out to learn, and try to shadow and utilise all the experience around you.