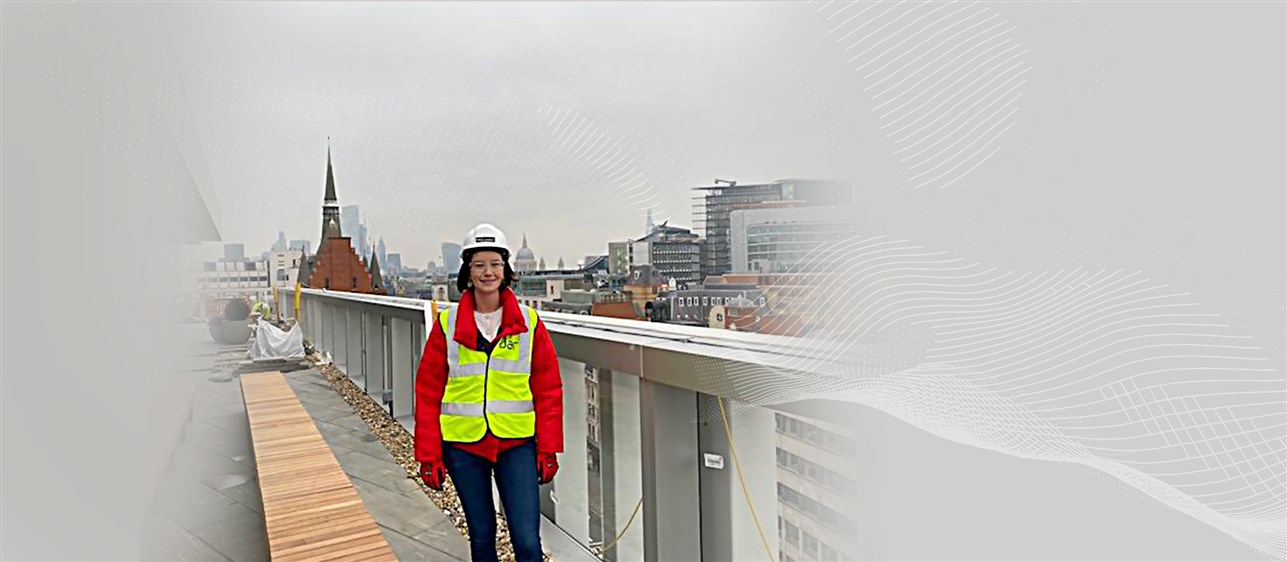 Date21.02.22
CompanyDar
LocationUnited Kingdom Europe
Welcome to the next in our People Portraits series, where we find out more about who's who in Dar's London office. And today we're talking to Angelina Hand, Senior Project Manager in London and Development Manager for Dar Group's new flagship UK headquarters at 150 Holborn.
1.Hello Angelina, and thank you for agreeing to be interviewed. So, can you tell us how you became a Senior Project Manager?



Hi there, thank you for having me! I became a Senior Project Manager when I joined Dar almost three years ago. Prior to this, I completed my university education in Engineering at Trinity College, Dublin. Upon graduation, I worked as a Structural Engineer in Australia and New Zealand, before moving to London where I became a Chartered Engineer.
Whilst it was rewarding and interesting work, I was conscious that I was experiencing a limited part of the construction industry. Moving to project management exposed me to so much more of the project lifecycle, and now I see projects going from being ideas on a piece of paper to being fully operational buildings, as well witnessing the value they add to building users.
2.Can you tell us a little more about what a Project Manager does? What services does your team offer? What does a typical day look like for you?
The role of the Project Manager can be as varied as the projects we work on, and the clients we work with. Within our Project Management and Contracts team at Dar, we offer the traditional project management services throughout the entire project lifecycle, as well as Contract Administrator and Employer's Agent services, depending on the project procurement needs, to support the client from concept through to handover and beyond. As a Group, we're uniquely placed to collaborate on projects to provide the full suite of design, cost and project management services, and our colocation within our 150 Holborn UK HQ building later this year will enhance this further.
In my current role there really is no such thing as a typical day. On our 150 Holborn project, Dar is owner, developer, landlord, and future occupier, so there's very little I'm not involved with, which is something I really enjoy. A lot of my time is spent speaking with our consultant team, advisors, construction team, leadership team and agents throughout the day, as well as visiting our site.
3.What would you say are currently the biggest challenges facing the built environment?
Uncertainty around COVID-19 and what impact it will have on the way we live and work has obviously impacted real estate, particularly in larger cities like London. Whilst it's created challenges, in some ways it's created opportunities for building owners, designers and occupiers to think more creatively about building environments.
Allowing flexibility and creating opportunities for collaboration all within a light, airy and healthy environment is something we've striven to achieve with our new UK headquarters building. The provision of collaborative spaces like enhanced meeting room facilities, break-out spaces and the creation of opportunities for chance meetings within communal areas like the staff cafe and roof terrace is integral to this. Building owners, and even employers to some extent, now more than ever need to create environments that people will want to return to, and that means thinking a bit differently about the facilities and spaces they provide.
4.And what are you most excited for, looking ahead?
Continuing what I said above, I think it's going to be an interesting few years ahead as stakeholders work to make building spaces operate more flexibly and efficiently, helping to attract and retain tenants, customers, staff and clients. Smart technology has the potential to change not only how users interact with buildings, but also how efficiently buildings operate, reducing maintenance time and cost, and saving energy.
Embodied carbon is coming more into focus now and there remains a lot of opportunities to further reduce this. This will mean not only adapting and repurposing existing buildings and structures, but also constructing buildings that provide flexibility in use though their whole design life. And doing this in a way that also minimises the embodied carbon without a reliance on carbon offsets.
5.What can you tell us about the 150 Holborn project you're working on right now?
The 150 Holborn project will bring our UK-based sister companies under one roof for the first time. As we'll all be spread across several floors, the building has been designed to create a sense of connection, most obviously through the central atrium which contains our feature staircase and glass lifts, but also through enhanced meeting room facilities, an in-building staff canteen, and an amazing landscaped rooftop terrace with glazed pavilion for staff to use throughout the day.
The building user experience will be supported by the 150 Holborn smart app, which will enable features like instant meeting room booking. Behind the scenes, our smart building management solution will ensure an optimal physical environment and maximum efficiency for the benefit of all building occupants. And it will continuously optimise as it senses more about the building and how it is used. This will enhance the environmental performance of our building beyond its BREEAM Outstanding and LEED Platinum credentials.
6.What's been the highlight of your career at Dar to date? And what do you enjoy most?
There's not really one specific highlight, though I am looking forward to 150 Holborn project completion and finally seeing the building in use this year. Visiting the site and seeing the project progress is really rewarding as well.
7.What would you say to anyone who may be considering a career in Project Management and the Built Environment?
The built environment has almost endless opportunities within it. As mentioned above, I work with such a diverse range of people and professionals on a daily basis, it's difficult to think of another industry which would offer the same variety.
When I was in school I did quite a few placements in different aspects of construction and design, which is something I would really recommend for younger people. For those thinking of changing careers towards a project management role, there are definitely lots of avenues to do so, and it's well worth the effort.