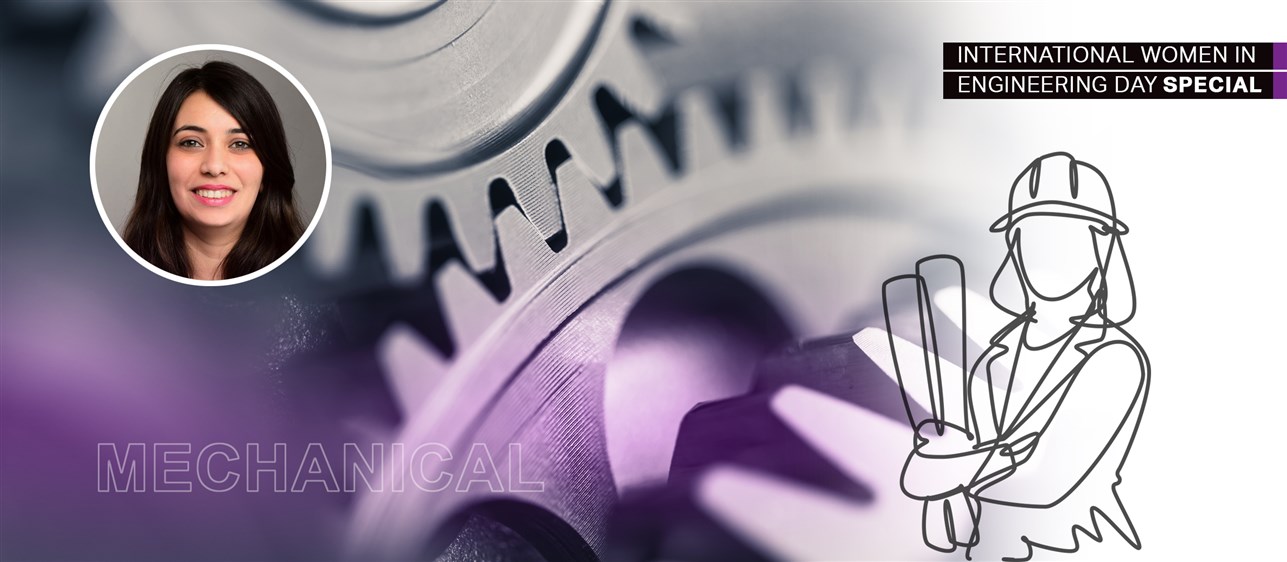 Samar Meleka is a senior mechanical engineer.
1. What drew you initially to mechanical engineering? And after over fifteen years of professional experience, what's motivating you to remain in this field?
What drew me to the mechanical engineering field in the first place is that it is a field that lets you enjoy complex problem solving and keeps you always on the edge of technology.
Motivation till this day goes back to the continuity of the learning we gain from projects in addition to the different challenges faced in each project.
For example, I enjoy the challenge of working in buildings with non-conventional architectural designs, because it needs frequent research for alternatives and solutions in the mechanical design, and this keeps the learning curve going because of the added value gained by the completion of each project.
Apart from the technical challenges we face in projects, the teamwork and sense of responsibility we share within the team, makes us feel like working with a family, in which all members are ready to give their best to achieve the finest design.


2. How has the field of mechanical engineering changed since you began?
It's not a change, but maybe I can say enhancements are frequently taking place.
New work practices and innovations have been introduced to enable engineers to work with higher efficiency and faster productivity. These new practices include the automation of the design process. New tools and software programs are now becoming more familiar and have proved themselves able to provide more productive outcomes.
As an example, Building Information Modelling (BIM) is a relatively new design technique, using a combination of new software and design processes, in which we as engineers design buildings using data-rich three-dimensional models. It is a much more efficient way of collaborating on the development of building designs, leading to better designs in comparison to those achieved using older methods.
Also, sustainable design or green building design is an approach which has become more widespread over the Middle East in the past few years. Buildings are being designed in such a way as to consume less energy and become more environmental friendly by preserving natural resources such as water, using less fuel, and maximising the use of renewable energy.


3. You have worked on a wide variety of projects – from airport expansions, transit systems, and corporate headquarters to specialised healthcare and training facilities. How does your scope as a mechanical engineer change from one type of project to the other?
The mechanical design for the main systems remains the same in any type of project. However, the scope changes from one building application to another, according to the requirements of the applicable codes and local authority regulations, in addition to requirements related to the green building design.
For instance, when you design a residential building you should ensure that the systems in each apartment can function independently: each apartment owner must be able to have control over the mechanical systems within his or her own apartment without disturbing the operation of the whole building. This is quite different than, for example, hotels where the systems are more centralised as the jurisdiction falls under one operator.
Hospitals, on the other hand, require different attention in the mechanical design, as some areas need to be more isolated than others to prevent the transmission of bacteria/viruses through the AC units. Thus, air pressurisation needs to be carefully designed in operating rooms and intensive care units relative to other areas within the hospital.


4. Tell us about a significant engineering challenge that you faced and resolved.
A client recently asked us to obtain Tier III design certification for one of the buildings we were designing. The Tier III design certification is an independent assessment to evaluate whether the design created systems capable of sustaining data centre operations during any maintenance activity. This requires considerable attention in the design and is awarded only to the best in class. In fact, this particular certificate was only granted to 11 buildings across all of Egypt. With no previous examples to fall back on, it was a challenge to fulfil all the detailed design requirements and get the building certified.
The challenge was exacerbated by the fact that we were operating during one of the global lockdowns. The mechanical reviewer was based in London while the other reviewers were located in Dubai, so we had to make continuous presentations and undertake communication procedures through conference and video calls from our homes to discuss the design during the quarantine.
Despite the challenges, we succeeded in creating a design that achieved certification, and all the team was proud of this accomplishment.

5. Tell us about a project that you engaged in – either professionally or personally – that impacted you significantly or that you are most proud of.
I consider myself a bit lucky as most of the projects that I worked on where challenging and required intensive collaboration between all trades since no building was considered a straightforward one.
I remember working on a high-rise residential building with a very demanding and ambitious client, who planned out the apartments in a way that was very inhospitable to the mechanical systems. Nevertheless, we managed to find solutions that suit the mechanical design and regulations while keeping the client satisfied at the end.


6. How do you see the future of the mechanical engineering profession? And what would your advice be to a girl thinking of a future in mechanical engineering?
I am very happy with the automation that is taking place, and I believe it will take the mechanical design process to ever higher levels of efficiency.
I would advise any girl to know that the mechanical engineering is an interesting yet quite tough field and requires a lot of dedication and hard work. Only ladies who are talented in time management can have a good life/work balance if they decide to join this field.