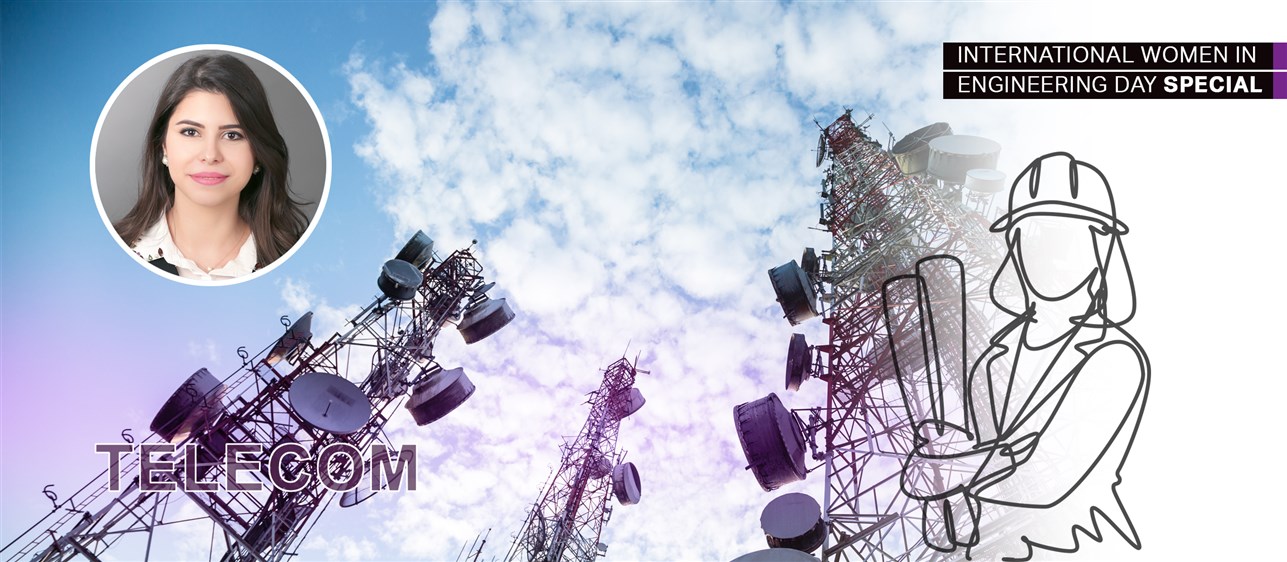 Nada Jaber is a senior telecommunication engineer.
1. What drew you initially to low-current and telecommunication engineering? And what's motivating you to remain in this field today?
My interest in engineering started since childhood. I was always asking questions and trying to figure out how things worked. In school, I found my love for math and physics, and, in my book, that meant only one thing: I was destined to become an engineer, and the rest is history.
There are no dull moments in engineering. There are only daily goals and continuous learning. Being involved in an engineering career means that everyday there is a new and exciting challenge in which you can push yourself to the limit. Working with teams of engineers also means that you are involved in a process of creation that requires many different types of thinking.
Telecommunications engineering, in particular, gives me the chance to be part of a world that evolves in an incredible way. Technology is the renewed oxygen of modern life and the engine driving the knowledge economy of the 21st century. Simply because it satisfies our basic needs, technology has become the basis for our applications. Telecommunication services, in particular, meet today's need for seamless, robust connections granting animate connection with people, enhanced experiences, and business development opportunities; setting a platform for growth in line with tomorrow's demands; and empowering nations across the world.
2. The field of telecommunication engineering is one of the fastest moving in the world. What are some of the innovations you have recently tried that you feel made the most impact? And what are you most excited to try out?
In the continuously evolving and developing field of telecommunications, achieving success as an engineer and staying ahead of the competition is a continuous process. Consequently, I believe that remaining up-to-date on current research and technology is very crucial, as is seeking out and participating in training courses that can enhance my job performance and conceptualise learning from ongoing releases and technological breakthroughs. Also, I constantly make sure to hold commitment and responsibility for my own learning and development by trying new ways of doing things, and then using the new skills and knowledge to improve my work.
Recently, I've worked on the smart city strategy for Qiddiya, a project that lies at the very heart of innovation. The Qiddiya smart city strategy redefined the process of planning and developing cities. Inspired by the Kingdom of Saudi Arabia's Vision 2030 and established on the basis of the Smart City Framework set by the country's National Digitisation Unit, the smart city strategy covered all the dimensions that will enable the realisation of Qiddiya's smart city vision and position the city as a leader among others by virtue of its economy, living, governance, society, environment, and mobility.
Empowered by its digital connected infrastructure and smart enablers, Qiddiya is planned to be a roadmap for aspiring and vibrant prospects for the Kingdom's youth, the future of tomorrow, offering augmented social services, enhanced quality of life, sustainable environment, collaborative government, prosperous economy, and smart mobility modes.
I would be thrilled to bits to see more cities entering the new era of digitisation, and to play a part in developing cities of the future.
3. You have worked very extensively on designing airports and airport facilities but also on infrastructure master plans, universities, and hotels. How does your scope as a telecommunication engineer change from one type of project to the other? What are the types of projects that are most demanding and have unique requirements?
In each project I have worked on, maintaining effective communication with my teammates, colleagues from my group, as well as other departments and other Dar offices and investigating different products and best practices were essentials in cracking the most demanding challenges and satisfying all the requirements of a given project and client.
Each project I have worked on is unique. The challenge usually lies in clearly understanding a client's requirements, project environment, and any special cultural aspects and in setting up a roadmap for realising design deliverables.
For every project, we prepare an optimal engineering design for the various ICT systems – taking into consideration project environment and function, the requirements of clients and stakeholders, latest technologies in the market, and the approved international standards and country regulations. ICT systems include information technology cabling, outside plant infrastructure, data communications network, virtual environments, wireless data networks, and unified communications.
Security systems, on the other hand, are crucial and indispensable in any project application. The technology in the security field is quickly and steadily growing to identify, detect, recognise, and deter any potential threats to individuals or property, in the most efficient and timely manner. Our experience in this field encompasses a wide variety of activities that range from planning security strategies and physical and electronic security measures to attending to clients' concerns and meeting local authority requirements.
Life safety systems ensure people's safety from various potential threats. This field requires extensive knowledge in the applicable local, regional, and international codes and standards, as well as constant follow-up on the latest engineering practices.
Meanwhile, special technology systems comprise a variety of modern and fast evolving services including smart city applications, audiovisual (AV) technologies, special airport systems, and various building services systems.
4. What would your advice be to a girl thinking of a future in telecommunication engineering?
I would say "A girl can only be two things, who and what she wants to be." For all young girls out there who believe in technology: if engineering is your love, feel free to choose it. Crave knowledge. Be fortified by innovative thinking to meet the technological outbursts in this fast-paced world. And equip yourself with an inquisitive mind to explore the latest trends.
Always remember: you are smart, and you have the power to shape the future so work really hard for your goals. But first, equip yourself with persistence. Desolately, sometimes you are going to find yourself in situations where people might put you down. Having a tough skin, a bit of perseverance, a lot of confidence and a reminder of why you are interested in this field will absolutely help you. It is indispensable to have analytical skills because you'll be questioned and good presentation skills to be able to defend your positions. The vital thing is to pursue an environment where you can be valued, and where people want you to prosper in your career.
So, come and join us in this stirring field that's always evolving and challenging you to become a better version of yourself. And hopefully in the future, we will not be talking about female engineers, there will be only engineers.