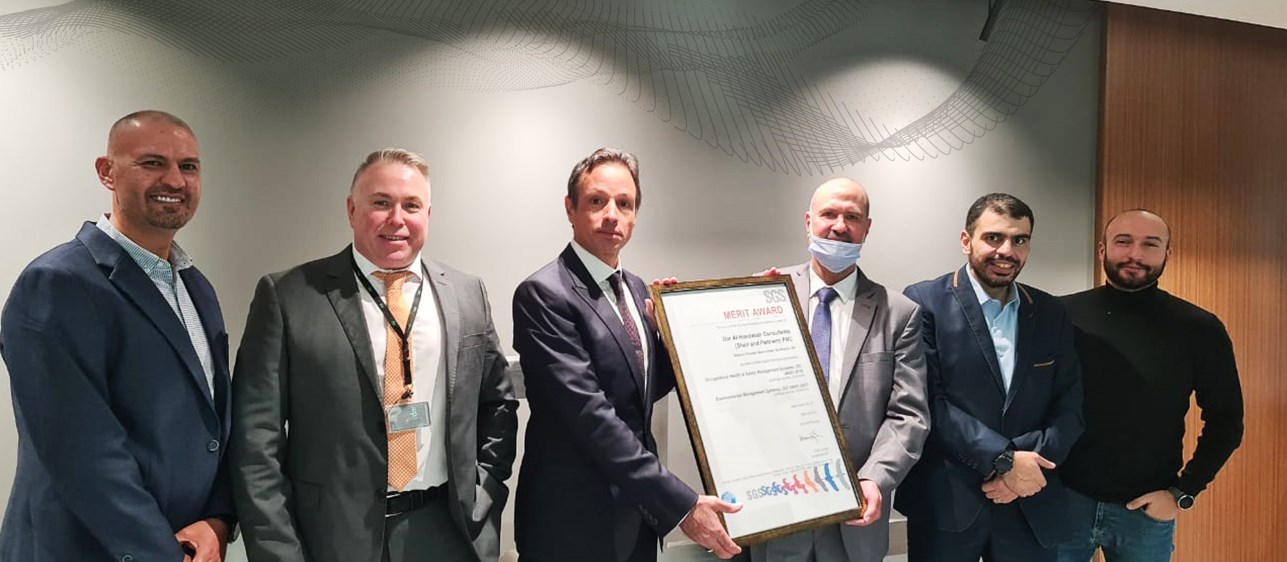 Dar has set a global benchmark by becoming the first engineering consultancy to be awarded a certificate of merit by SGS – the world's leading testing, inspection, and certification company and widely-recognised global benchmark for quality and integrity.
The award was presented to Dar's project management and contracts (PMC) unit in Dar's design centre in Amman, on November 24, by SGS General Manager Hasan Omari and QHSE Lead Auditor Osama Hasan.
The certificate specifically recognises Dar's continuous improvement in metrics measured by ISO standards 14001 and 45001 which respectively govern environmental management and occupational health and safety. It reaffirms our commitment to ensuring that we can offer our clients the highest health, safety, and environment standards at even the most dynamic construction sites.
This achievement is the result of a company-wide vision and extensive collaboration between our core health, safety, and environment team and our site teams around the world. On our project sites around the region, we provide HSE project committees, technical advice and guidance, and extensive training programs in order to improve employee safety and create better working conditions. Many of our flagship projects have implemented their own reward and recognition programs to promote a positive safety culture, and our company directors are demonstrating their commitment to this cause with periodic HSE-inspection project tours. Moreover, we continue to strive for improvement and excellence by developing best practice documents and adhering to the latest international safety and environment standards.
The certificate of merit is a testament to our continuous improvement, passion, drive, and commitment to safety and environment, and it is an important milestone in our journey to provide our clients with the highest possible health and safety standards, across the region and beyond.