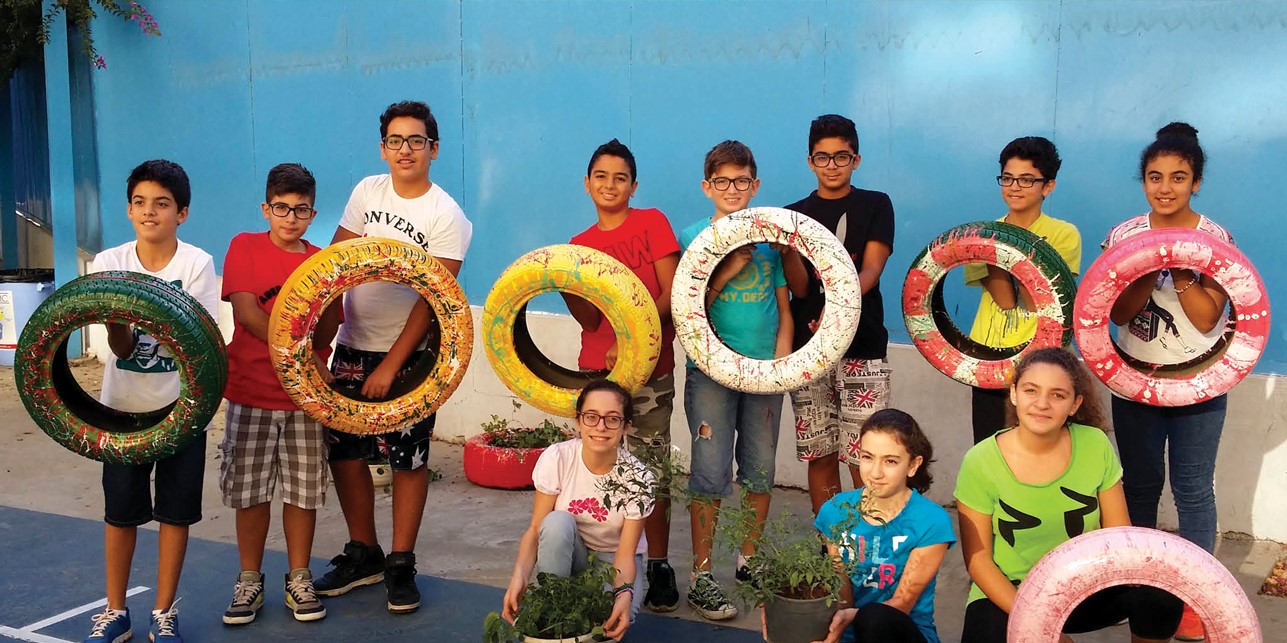 Date01.05.18
AuthorIbrahim Kronfol
CompanyDar Al-Handasah
LocationLebanon Middle East
Sustainability has been at the forefront of Dar's output, transforming built environments into sustainable, environmentally-friendly, comfortable spaces for people to live, study, work, shop, and simply enjoy their time in.
This culture of sustainability translates into different internal initiatives that Dar and its employees lead, one of which is Sustainability Movement.
---
This year, the students were especially excited and cooperative, listening to the presentation carefully and engaging with intense interest. Seeing their excitement overwhelmed me with a sense of gratitude and pride.

Omar Meskawi
Mechanical Engineer
About the movement
Six years ago, Dar team members started an initiative to give back to the community. With commitment, enthusiasm, and passion for a better, greener future, the Sustainability Movement was founded. The movement started with the Green Apple Day event, an initiative from The Center of Green Schools at the United States Green Building Council (USGBC), that works to ensure that every student has the opportunity to attend a green school within this generation.
This event gives individuals, companies, and organisations the opportunity to transform all schools into healthy, safe, cost-efficient, and productive learning places. "It is a unique moment to join schools across the world to celebrate the central role that schools play in preparing the next generation of leaders in sustainability. A school's event is an opportunity to give students hands-on experience with sustainability, strengthening public leadership, environmental literacy, and project management skills," says the USGBC. Sustainability Movement as a whole comprises a school event as well as an online platform to promote further interaction and education.
The day of service
In Summer while most school students are enjoying their break, the Dar team starts planning for Green Apple Day. A call for volunteers is usually sent out in August to reunite the team. Following coordination with school activity managers, volunteers get prepared to make the event fruitful. As most of them are engineers and come from technical backgrounds, all efforts are exerted to make the message simple and easy to digest.
The day of service starts with an interactive presentation introducing the main environmental and sustainability opportunities encountered on a daily basis, followed by a practical activity to motivate students to become future green leaders.
Activities vary in difficulty and nature, from planting a vegetable garden to creating a mural, recycling, and water auditing. By the end of the day, students receive a certificate of participation. They are also invited to partake in Sustainability Movement's online page – which is managed by environmental activists and is dedicated to sustainability – to keep them engaged with the movement and to ensure they continue educating themselves and their peers. "Participating in the green apple day of service has become a tradition to me. Each year, I wait the for the last Saturday of September with excitement and enthusiasm. My intention is to drive a generation of young students towards a sustainable country, and my weapon is the support and cooperation of a great company," said Patrick Kattan, a volunteer.
The facts
As indicated by the curve below, the movement of Green Apple Day is getting more empowered each year. The surge in the number of volunteers has paved the way for us to increase the number of participating schools. Following are some facts:
The number of volunteers has increased from 4 volunteers in 2012 to 77 volunteers in 2017.
In 2012, we started our service with one school, SABIS-The International School of Choueifat, engaging 40 students; in 2017, we engaged 1250 students.
Throughout this journey, Dar team has gained experience in interacting with students of all ages and has thus ensured that all students get the best commitment towards sustainability.
As of late, we've been targeting communities and institutions that don't have access to too many resources to engage in green activities.
In 2016 and 2017, volunteers from the Lebanese Green Building Council (LGBC) joined the movement from Beirut, adding to our effectiveness and expanding our reach.
In conclusion
Through Sustainability Movement, social responsibility and the will to change have driven us to encourage the youth of Lebanon, India, Jordan, and Egypt to be environmentally-conscious and to lead greener lives. I owe the team a lot for the success we've achieved and a great debt of gratitude to all those who believed in the cause and worked behind the scenes to support us.
---