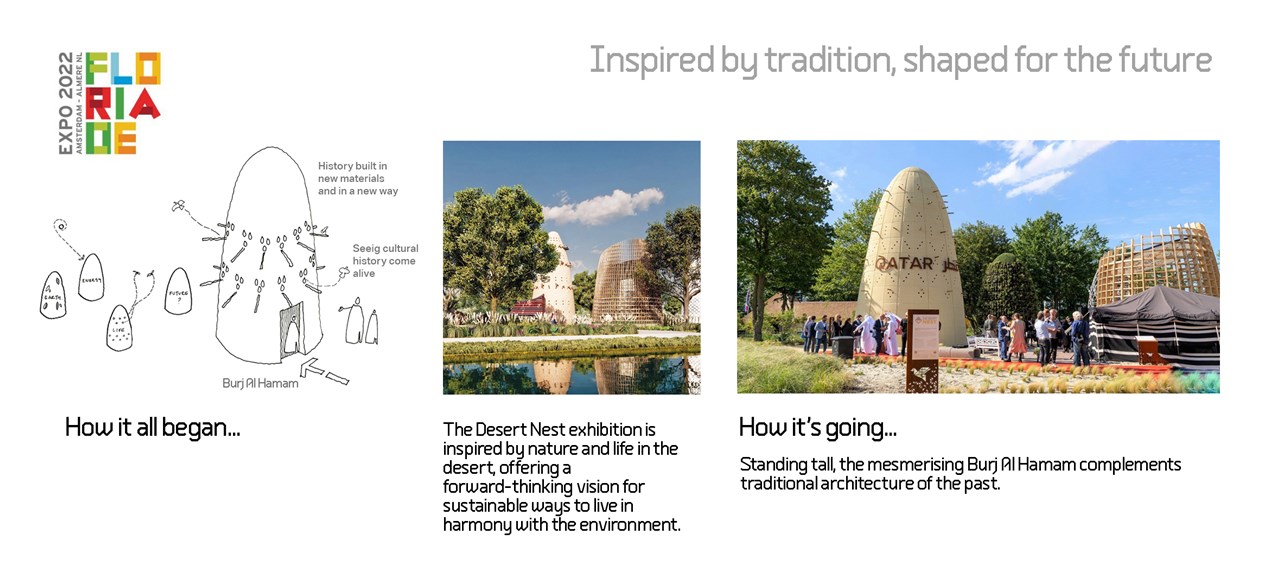 Date26.05.22
LocationNetherlands Europe
Qatar's Desert Nest Pavilion in the Netherlands' Floriade Expo 2022 was named the world's tallest freestanding 3D printed concrete tower, entering the Guinness Book of Records.
The official certificate was presented to the Commissioner-General of the Qatari Pavilion Mohammed Ali Al-Khoury in the presence of H.E. the Ambassador of Qatar to the Netherlands, the Mayor of Almere, the King's Commissioner for the Province of Flevoland, the President of the International Association of Horticultural Producers, and a number of officials.
Combining cutting edge 3D printing construction techniques with the concept of the traditional Qatari pigeon towers that provided a resting place in the desert for migrating pigeons and birds, the Pavilion celebrates Qatar's developments and innovations as well as its bold vision for transforming the desert into the perfect place for green and sustainable cities.
A prototype for future building technologies and green cities, the pavilion is a legacy of sustainable construction practices, using renewable energy and reclaimed materials, featuring nature-informed parametric design and adaptable landscapes, practically eliminating construction waste, and employing advanced building practices such as 3D printing.
Dar recognised the tremendous potential value of 3D printing early on and launched a number of initiatives to capitalise on this development and bring its benefits to our clients and host communities. Working with technology consultant Autodesk and other 3D printing specialists, Dar is seeking digital manufacturing methods and breaking away from existing constraints by promoting a leading role for 3D printing technology in both commercial and research projects. We have also partnered with research universities to test every aspect of the 3D printing process, from experimenting with the technology itself to trying our different materials with different specifications, including specific materials (such as special concrete admixtures) that can be used for 3D printing purposes.