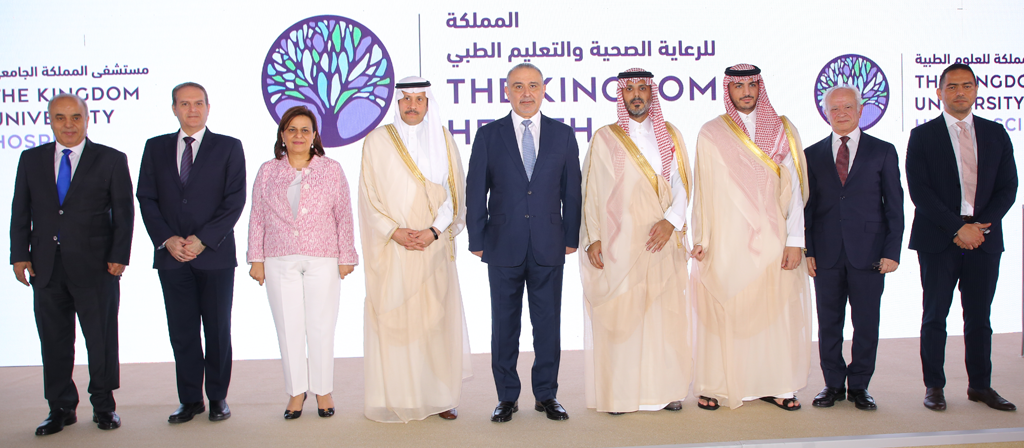 Within an illustrious ceremony held on Thursday October 12th, the Jordanian Prime Minister Dr. Bisher Khasawneh laid the foundations for the Kingdom Health, a $400 million healthcare and medical education project, powered through an investment by the Saudi Jordanian Investment Company (SJIC), a wholly-owned subsidiary of the Public Investment Fund (PIF), the sovereign fund of the Kingdom of Saudi Arabia.
The ceremony was held on the construction site near Ghamadan in the Jordanian capital of Amman and was attended by the Deputy Governor of the Public Investment Fund and Head of MENA Investments Yazeed A. Al-Humied, alongside several ministers, high-ranking officials, and ambassadors of the Kingdom of Saudi Arabia, the United States of America, and the United Kingdom.
The ceremony was also attended by Dar's Director of Operations in Jordan Abeer Tarawneh. Dar and Perkins&Will – two sister companies in a global collaborative of industry-leading brands – are providing engineering design and construction supervision services for this exceptional new healthcare enterprise.
During the ceremony, project stakeholders also revealed the brand name and logo for the new project, which will comprise the Kingdom University of Health Sciences – a university with a total capacity for 600 students and an annual student intake of 100 students – and the Kingdom University Hospital, a 330-bed hospital with 72 outpatient clinics and a dedicated children's hospital. The "Kingdom" within the name refers to both the Hashemite Kingdom of Jordan and the Kingdom of Saudi Arabia.
With a built-up area of approximately 110,000 m2, the project will contain – in addition to the university and the hospital – five medical centers of excellence, focused on providing essential expertise in cardiology, oncology, neurology, gastroenterology, and orthopedics. The venture will also focus on driving advanced scientific research through establishing four scientific research centers in the fields of genomics and precision medicine, stem cells and regenerative medicine, health systems and public health, and Bioinformatics. 7.5% of the hospital's revenues will be dedicated to scientific research and development.
The transformational healthcare project will be implemented in partnership with the University College London Medical School and UCLA Health in Los Angeles, California, as the academic partner and the clinical partner respectively.
Scheduled for completion by the end of 2026, the project is expected to create more than 5,000 permanent employment opportunities. It will also exceptionally enrich medical expertise and academic knowledge across Jordan and the region, by providing a platform for world-class healthcare delivery, intricate and cutting-edge medical research and scientific inquiry, and exceptional medical education to empower new generations of doctors, researchers, and medical pioneers from Jordan and the region.