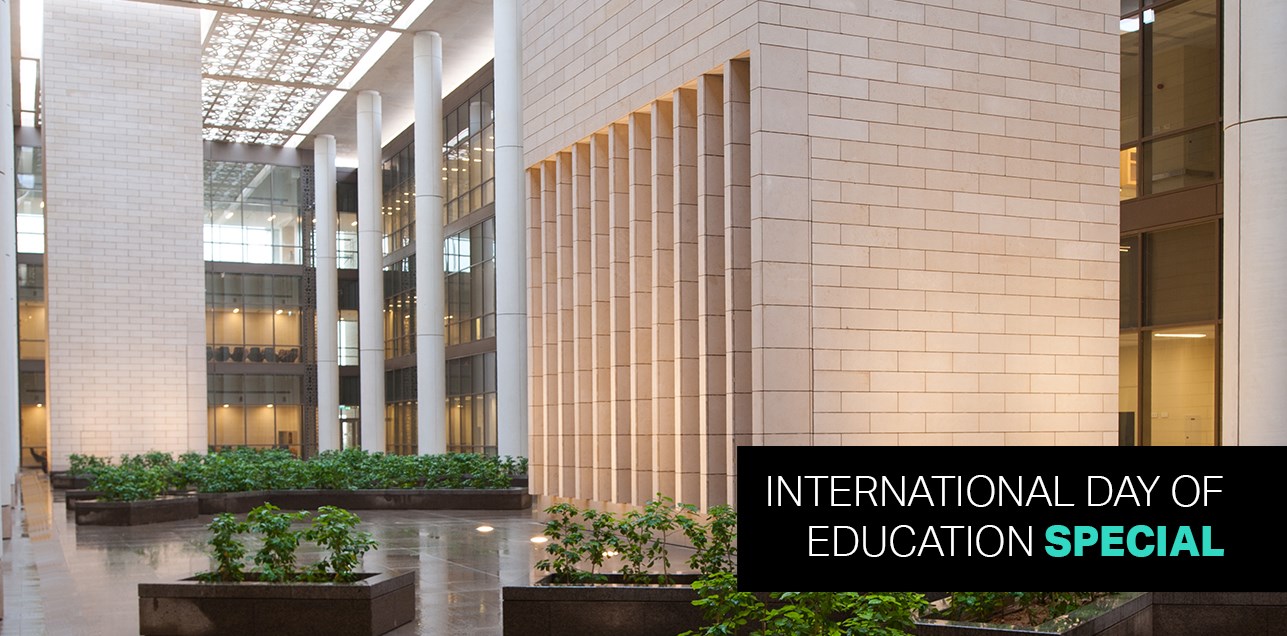 Date24.01.20
LocationDubai, United Arab Emirates Middle East
A human right and a public responsibility, education has its moment in the international spotlight every year on January 24, officially the International Day of Education. For the 2020 celebration, UNESCO chose the role of education in preserving the planet as one of the main themes. Specifically, the event is meant to highlight the ways in which education can help students learn how to reverse unsustainable practices and live in closer harmony with the natural world. And, as Director General Audrey Azoulay emphasised in her official message on the occasion, everyone has a role to play.
For design consultancies like Dar, that role is increasingly related to designing environmentally-friendly, high-performance environments for students to live and learn in. So, to celebrate this occasion, Dar's David Hansen, an architect with vast experience in LEED-certified schools and buildings, discusses the industry's perspective on sustainability and the specific features designers need to consider in order to create healthier and more inspiring schools and universities.
More than a plaque on the wall
For certain, clients in the industry, and especially in the education sector, are more and more invested in sustainability. "It's interesting that while we certainly talk to every client about sustainability, it is not quite the hot conversation that it was five to eight years ago," David says, adding, "I think this is because sustainability is now an expectation, not an option. And while not all clients want to hang a LEED plaque on their wall, they are all interested in the benefits, and we always design with sustainability in mind. It's just a part of the process."
For schools, this approach is even more important.
---
I tend to no longer think of this topic through a strictly LEED lens, but rather through the question of how can we create a high performance environment, but this, in turn, includes all the following aspects of LEED and so many of these fit hand and glove with schools because they all impact performance in one way or another."

David Hansen

1. Daylight
An integral feature of high performance buildings, daylight connects occupants to the outdoors, promotes well-being, and saves energy by reducing the need for electrical lighting. Studies also show that students' performance improves in classrooms with good daylight as compared to classrooms with poor daylight.
2. Thermal Comfort
Concentration and performance both drop off when temperatures in the classroom fall outside a certain range. Therefore, it is essential to design a classroom environment in which thermal comfort is guaranteed.
3. Acoustics
A particular feature of LEED for Schools, acoustics are particularly important. "If a student cannot hear something the teacher says properly, he or she will not understand its meaning or learn it. For younger kids who do not have the ability to contextualise a conversation and fill in the blanks, this issue is even more critical," David emphasises. High performance design is meant to ensure that the classroom environment promotes high-quality acoustics.
4. Indoor Air Quality
"It goes without saying that we want our breathing air to be free of contaminants and other impurities and contaminates," David comments. Poor indoor air quality leads to episodes of asthma and other issues that can cause both students and faculty to lose days of school. Therefore, designers need to be cognisant of not only the materials and systems that we put in the buildings but also of the products our clients use to clean their buildings. We need to guide them away from using toxic cleaning chemicals.
5. Energy Efficiency
Energy efficiency not only protects the environment, it also cuts costs. "Our clients in the education sector want to spend their money on learning, on teachers, and on educational materials," David says, "lower energy costs will free them to invest in these important things."
6. Resilience
With natural and manmade disasters haunting communities around the world, resilience is emerging as a key differentiator, especially for schools. "We need to design our schools in such a way that they can withstand potential shocks and stressors, especially environmental ones though we recognise others as well," David explains.
A cost-effective path to healthier schools
"During the last decade of designing LEED-certified buildings, it has been our experience at Dar that it is easy to design within the 'Certified' range of LEED, and that, usually, if we aim for this, we are able to gain a Silver LEED certification for a project without incurring any outside costs," David remarked. "If we have cooperation of both the client and the contractor, then the upper reaches of Gold and Platinum LEED are also attainable with only a small percentage of the overall cost added." This small additional percentage can leverage many advantages that remain throughout the lifecycle of the building and, for schools in particular, enhance the lives of numerous people while teaching them first-hand about the wide horizons available in sustainability.