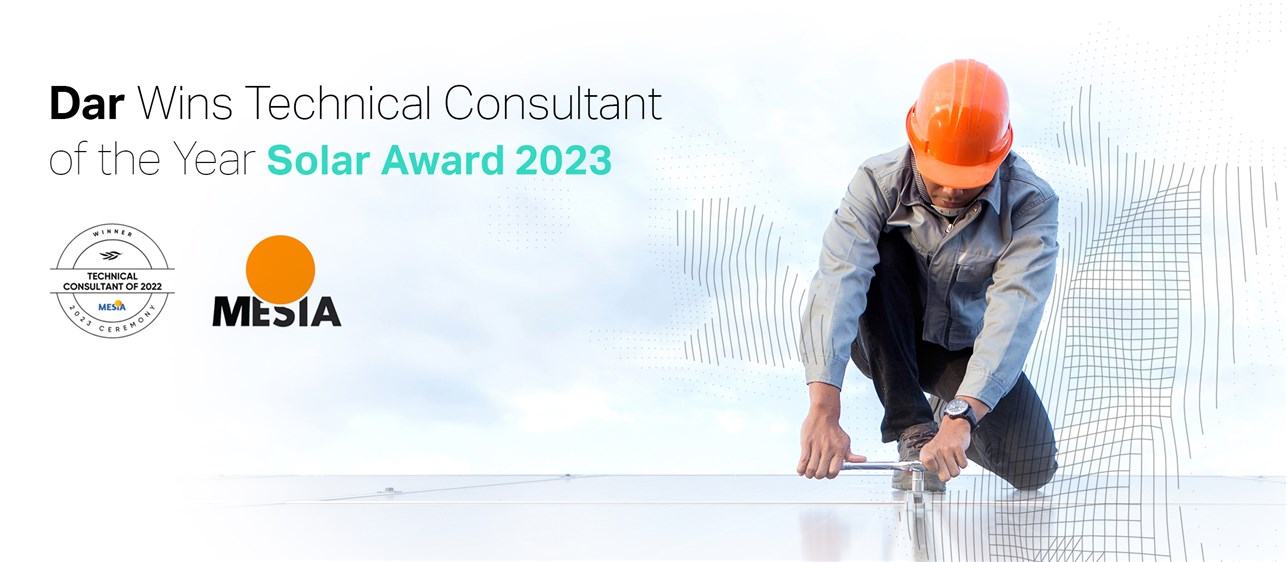 Date31.01.23
CompanyDar Al-Handasah
LocationJordan Middle East
The Middle East Solar Industry Association named Dar the Technical Consultant of the Year at the Solar Awards 2023 ceremony which took place on January 17th at the World Future Energy Summit Solar Expo and Forum in Abu Dhabi. Recognised as the industry's premier awards ceremony, this annual event serves as a platform to recognise and celebrate exceptional talent and achievements in the MENA region's solar market.

The award spotlights Dar's role as the technical consultant on the 100MW Madonah Photovoltaic Plant. One of the largest projects of its kind in Jordan, the Madonah Plant uses bifacial photovoltaic plants and a single-axis tracking system and aims to improve the competitiveness of Jordan's industrial sector by reducing its energy costs and offsetting emissions from 87 industrial entities responsible for its development.

Dar has been providing comprehensive services for solar-based energy systems since the evolution of photovoltaic energy on a commercial scale. Our goal is to empower clients and communities to use this infinite resource to meet their targets — whether those include reaching a high benchmark of energy independence, increasing the share of renewables in the energy mix, setting a more positive carbon footprint, leveraging a cheaper and more environmentally-friendly source of energy, or becoming more resilient. From nation-wide strategies to targeted interventions in off-grid and remote communities to building-level designs, we use our expertise to accelerate the global transition to renewable and clean energy.

Our specialists consistently track the latest research in solar energy, test state-of-the-art technologies, and design technically innovative and economically-efficient solutions that are tailored to the distinctive context and requirements of individual projects, clients and communities.