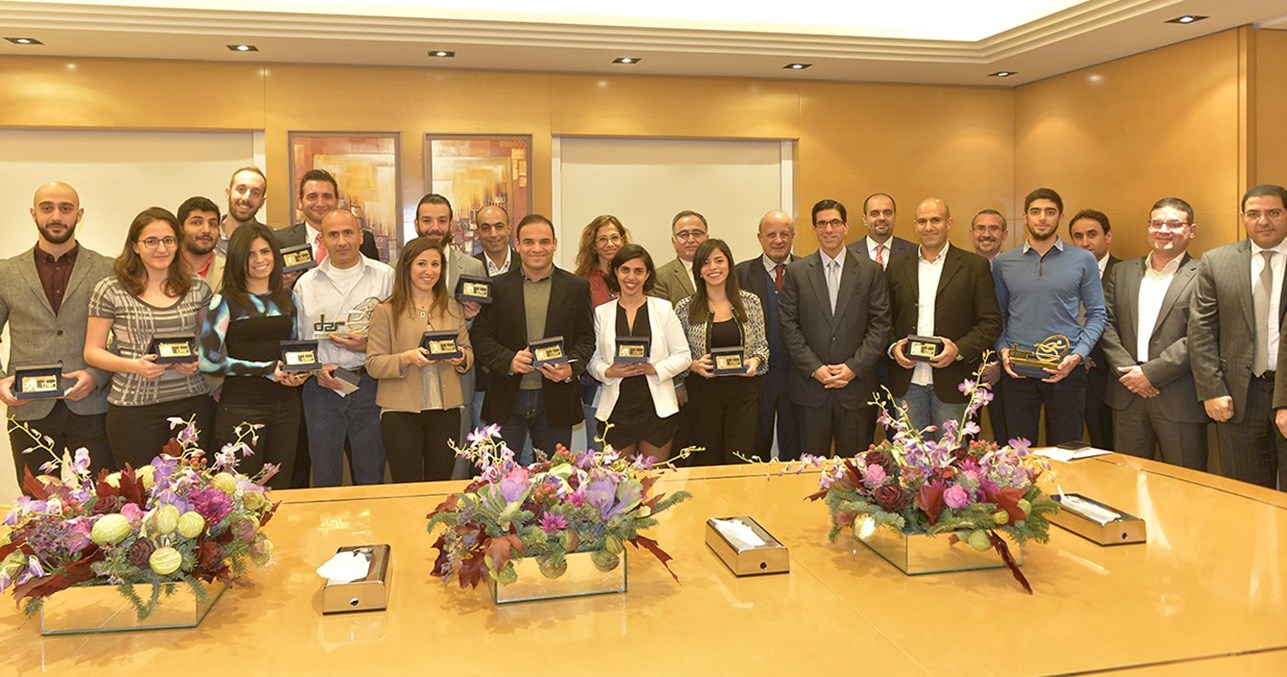 More than 883 Dar Beirut members made a difference in their community by participating in the Beirut Marathon 2015 that took place on November 8. The number marks an increase of nearly 200 Dar participants in the event compared to last year.
This year, Dar participants ran to support the "Teach a Child" non-governmental organization (NGO). The organization has funded about 1,000 children in Lebanese public schools since its establishment in 2011.
At the event, Dar also sponsored a cheering station for the Lebanese Autism Society, an NGO supporting children with autism.
Dar members also ran to win. At Dar Beirut, we had our own champion. Ahmad Ghoul from Administration ranked third at an international level in the Special Needs Marathon. As a gesture of appreciation for Dar, Ghoul offered the firm his trophy.
The award ceremony for the winning staff of Dar took place on December 24 in the presence of Our Chairman Mr. Talal Shair, company partners and senior staff.
Our participants are a true embodiment of Dar's commitment to its communities, and its forward and courageous spirit in the face of adversity.
We are looking forward to run even faster and farther for more causes at the 2016 Beirut Marathon.
Below are the results of Dar's best runners in the Beirut Marathon 2015.
42 km Race Result
| | | | | | |
| --- | --- | --- | --- | --- | --- |
| Rank | Chip Time | Bib | First Name | Last Name | Gender |
| 1 | 4:09:09 | 533 | Youssef | Lawand | M |
| 2 | 4:18:18 | 530 | Wissam | Akiki | M |
| 3 | 4:19:51 | 529 | Bassem | Mortada | M |
| 4 | 4:22:04 | 528 | Andrea | Gholam | F |
| 5 | 5:54:54 | 527 | Lynn | El Bisri | F |
| 6 | 6:00:59 | 531 | Guy | bassil | M |
| 7 | _ | 532 | Rashad | hakim | M |
10 km Race Results (Male)
| | | | | | |
| --- | --- | --- | --- | --- | --- |
| Rank | Chip Time | Bib | First Name | Last Name | Gender |
| 1 | 0:48:19 | 5776 | Elie | Hallassou | M |
| 2 | 0:49:09 | 5773 | Hussein | Al Sayed | M |
| 3 | 0:50:45 | 5821 | Fahmi | Chouman | M |
| 4 | 0:52:04 | 5884 | Jad | Nachabe | M |
| 5 | 0:54:44 | 5764 | Youssef | fares | M |
10 km Race Results (Female)
| | | | | | |
| --- | --- | --- | --- | --- | --- |
| Rank | Chip Time | Bib | First Name | Last Name | Gender |
| 1 | 0:50:17 | 5880 | Yara | El Hayek | F |
| 2 | 0:54:14 | 5953 | Lama | Saab | F |
| 3 | 1:02:22 | 5772 | Mia | Nasr | F |
| 4 | 1:03:59 | 5746 | Sabah | Rammal | F |
| 5 | 1:06:17 | 5816 | Siwar | El-Amine | F |