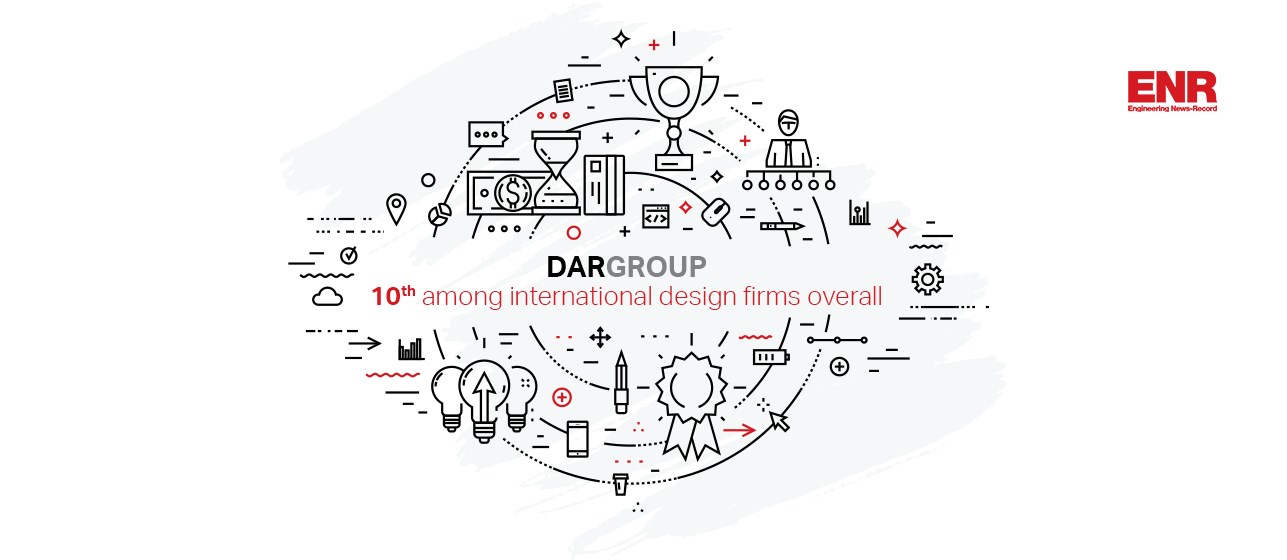 Engineering News Record – a leading news source on the top international firms in the engineering and construction industry – has released its annual rankings of the Top 225 international design firms, with Dar Group maintaining its Top 10 position in multiple categories.
The rankings are based on annual revenue made by design firms for their services in 2022, and are further divided into categories based on specific markets and regions.
In the 2023 ENR rankings, Dar Group ranked 10th overall international consultancy firm among the Top 225 for the third year in a row, and 5th among pure consultants. Dar Group has now placed in the Top 10 international design firms for 15 years.
In the Top 150 Global Billings, Dar Group placed 23rd overall and 10th among pure consultancy firms.
Within the Top 10 rankings by region, Dar Group ranked 3rd overall in both the Middle East and Africa and 6th in the USA. Among pure consultants only, the Group placed 1st in the Middle East, 2nd in Africa, and 4th in the USA.
As for market rankings, Dar Group placed 7th overall in Transportation and 4th among pure consultants. And for the Building category, Dar Group placed 2nd both in the overall rankings and among pure consultants.
Dar Group's global ranking spotlights the significant collaboration and continued progress made by Dar and sister companies TY Lin, Perkins&Will, Currie & Brown, Penspen, Introba, Landrum & Brown, GPO Group and Maffeis Engineering Spa.
Highlighting the continued focus on resilience and sustainability, ENR spotlighted Dar Group's latest developments in the digital realm, citing their acquisition of CopperTree Analytics and the recent development of Dar Group's flagship digital twin and portfolio management platform, Para.
"We have truly market-leading capabilities in the digital space," said Faysal Shair, head of digital solutions at Dar. "We are particularly excited about leveraging the AI-powered intelligence as well as the analytic and visualization capabilities of Para and CopperTree Analytics to drive more sustainable performance in the built environment."
To learn more about Dar Group visit: www.dargroup.com