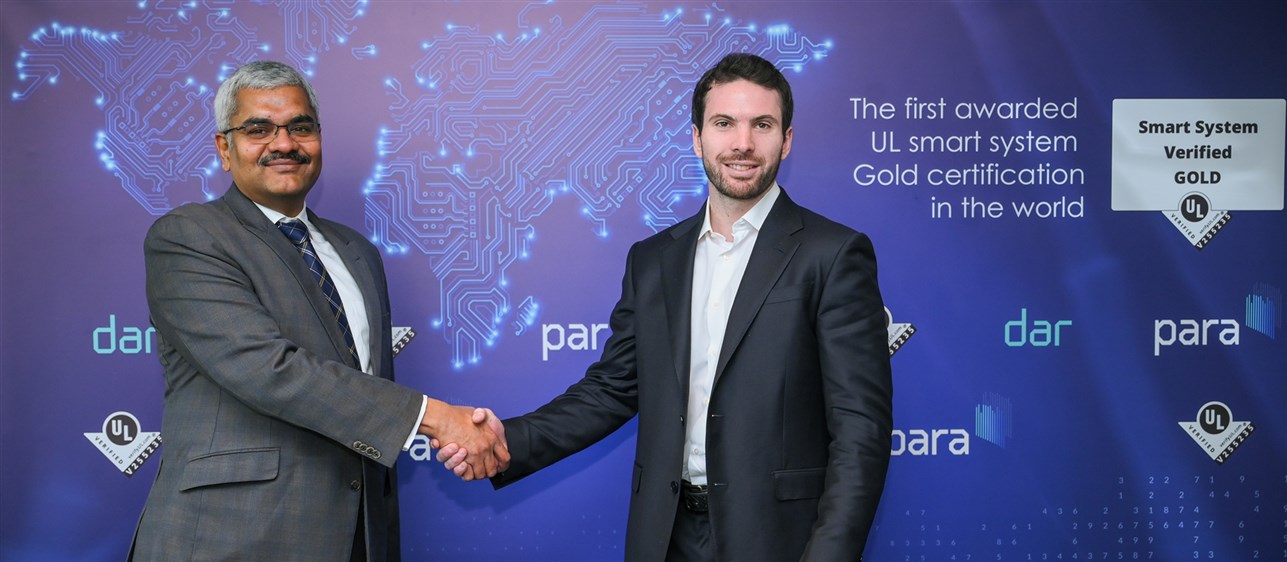 On March 14th, UL Solutions, a global leader in applied safety science, announced that Dar Group's Para digital twin technology achieved the first-ever UL Smart Systems Rating. The rating provides assurance that Para helps smart building owners verify smart systems that optimise and facilitate operation and maintenance.
Para – a digital twin and analytics platform for optimised performance
As a digital twin and analytics platform that optimises and facilitates operation and maintenance, Para helps make assets more energy-efficient, cost-effective and sustainable. The software combines cognitive analytics powered by machine learning and artificial intelligence. Backed by the building technology expertise of Dar and Dar Group engineers and experts, Para's comprehensive analytics platform provides targeted recommendations that enhance building performance and operations.
"One of the challenges currently faced by the digital twin market is a standardised definition and operating model for digital twin technology, and UL Solutions stepped up to solve this problem with the UL Smart Systems Rating Program," said Faysal Shair, CEO of Para. "We are proud to have been recognized globally as the first digital twin platform to complete UL Solutions' assessment and earn a UL Smart Systems Rating."
"Digital twin technology can offer immediate and long-term value for the smart building industry by providing deep insights and the capability to optimise autonomously while controlling varying aspects of buildings," said Tim Kupa, vice president of business development at Para. "With Para digital twin technology by Dar Group, being the first software platform to achieve a UL Smart Systems Rating confirms for our customers the advantages of utilising Para in their building portfolios."
First-ever UL Smart Systems Rating
The UL Smart Systems Rating is offered by UL Solutions. A global leader in applied safety science, UL Solutions transforms safety, security and sustainability challenges into opportunities for customers in more than 100 countries. UL Solutions delivers testing, inspection and certification services, together with software products and advisory offerings, that support product innovation and business growth. The UL Certification Marks serve as a recognized symbol of trust in products and reflect an unwavering commitment to advancing a stringent safety mission.
UL's Smart Systems Rating Program was set in place to tackle a key industry challenge. Advancing smart technology continues to create a competitive and challenging market for original equipment manufacturers (OEMs) who struggle to differentiate their products from those of their competitors. OEMs are setting an accelerated innovation pace that owners, general contractors, consultants, integrating contractors and building operators are trying to keep up with and trust within their operations. However, the lens they look through to meet the operational goals of the building is inconsistent throughout the contracting process.
The UL Smart Systems Rating Program helps to address this challenge by putting in place a criteria-based rating program for smart building systems. The program is built on a comprehensive assessment of what makes systems smart — connectivity and interoperability, resiliency, cybersecurity, digital experience, functional value, and control and automation. Upon successful assessment, UL Solutions issues a verification Mark that can be publicly accessed and used for marketing claims.
"The UL Smart Systems Rating Program helps solidify the definition of a smart product and provides much-needed clarity for the smart building industry," said Sudhi Sinha, vice president of Ecosystems and Service Development at UL Solutions. "Para is not only the first to earn a UL Smart Systems Rating but also an example of the program's value for smart product manufacturers and their customers."
Para has already been implemented in Dar's LEED-Gold headquarters in Cairo's Smart Village and at the Atlanta office of Dar's sister Dar Group company, Perkins&Will.