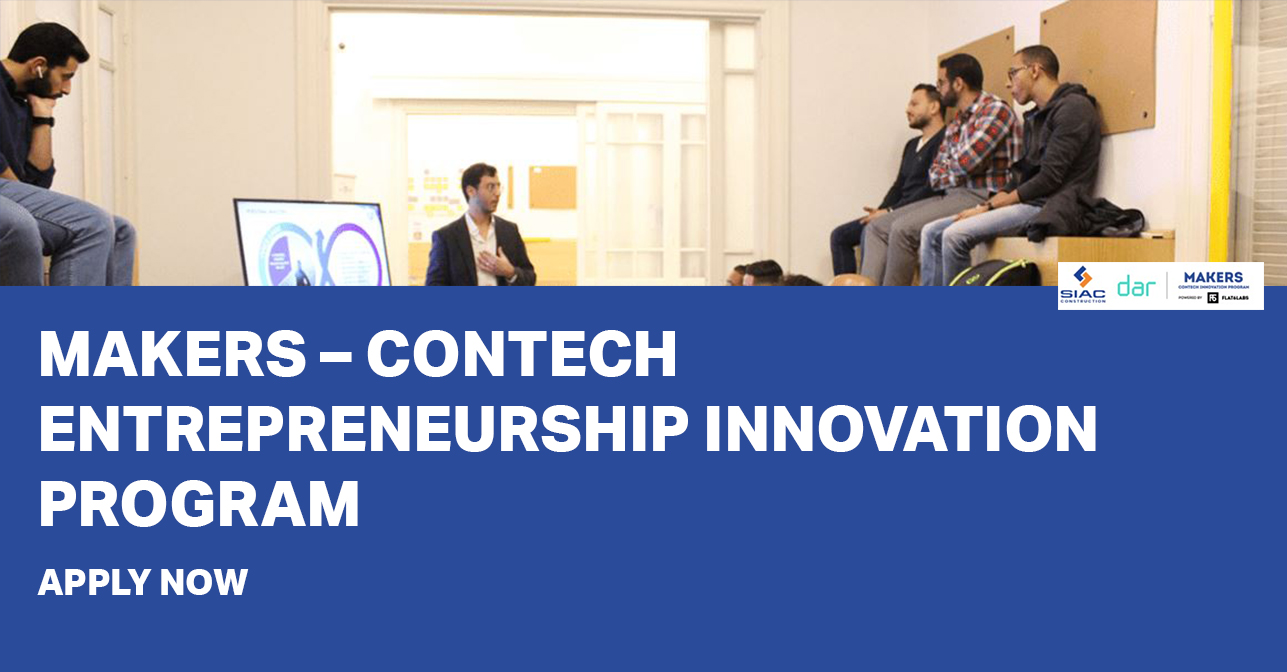 In a transformative move, Dar alongside one of the leading regional private sector construction companies in Egypt and the Middle East SIAC and leading early-stage venture capital firm Flat6Labs, has unveiled the pioneering "Makers" ConTech Accelerator Program – a first-of-its-kind in the Middle East. The program aims to support innovative startups within the construction technology sector and empower creative individuals to transform their ideas into market-ready solutions.
The initiative follows the success of Makers' initial pre-accelerator program earlier in 2023, which aimed to foster innovation within the construction industry. The program brought together leading industry stakeholders and experts to create sustainable innovation ecosystems that effectively addressed challenges within the industry. Notably, the pre-accelerator program saw the graduation of nine innovative ConTech startups in Egypt – including Reblox, Tawredaat, AION Innovation, Masafa, HomeLab, A.D Innovations, Makinahub, and JEEZAR.
The "Makers" ConTech Accelerator Program, which will run for 12 weeks, will provide startups with funding of up to $100,000 per venture, along with access to mentorship, business training, personalized consultations, coaching sessions, networking opportunities, and vital resources to develop and expand their initiatives.
Startups will be assessed on their groundbreaking technology, dedication, and exceptionally promising products, demonstrated at a minimum viable product (MVP) stage or beyond. Initially, the program will concentrate on Egyptian entrepreneurs before extending its reach across the broader MENA region.
Faysal Shair, Head of Digital Solutions at Dar, commented: "We are thrilled to continue our exceptional collaboration with SIAC and Flat6Labs to accelerate the transformation of the construction industry. We believe that the program will promote innovation in the construction industry and foster talents in construction tech, empowering them to showcase their innovative solutions and work alongside industry leaders to bring those solutions to the market. We are looking forward to seeing what the selected startups will bring to the table."