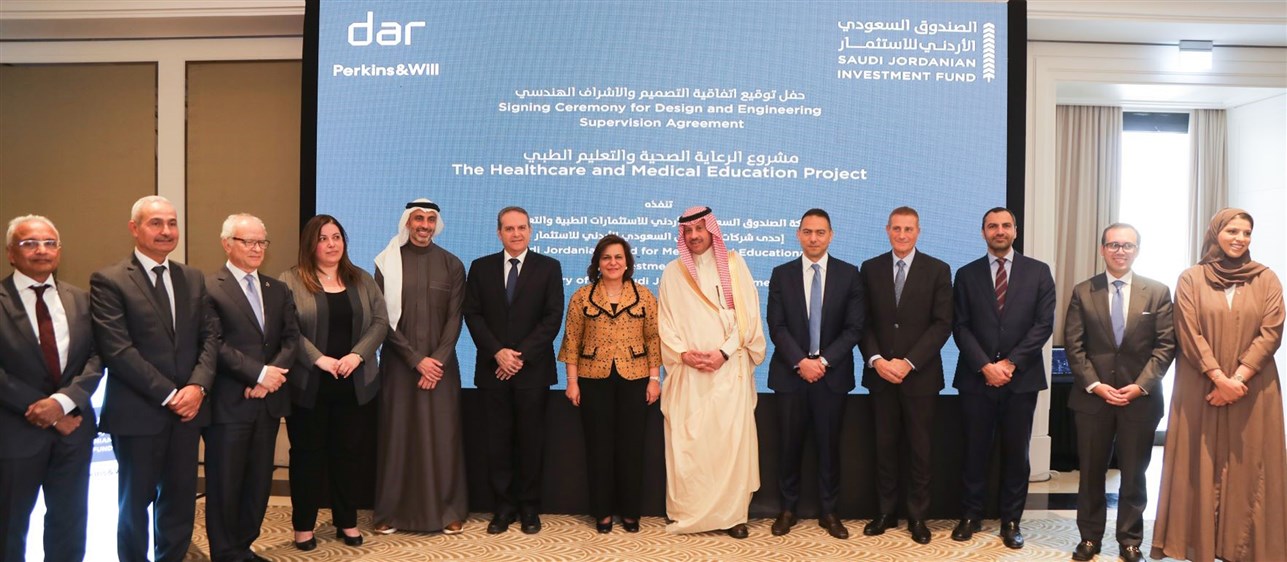 Dar and Perkins&Will – two leading Dar Group brands – will provide engineering design and supervision services on one of the most ambitious healthcare projects in Jordan and the Middle East, after signing a contract with the Saudi Jordanian Fund for Medical and Educational Investments Company (SJFMEI), which is a fully-owned subsidiary of the Saudi Jordan Investment Fund.
Elevating healthcare in Jordan

The healthcare project, to be implemented by SJFMEI is envisioned to revolutionise medical care and scientific medical research in Jordan, introduce global healthcare and educational expertise to the local and regional market, and provide world-class facilities to train the next generation of doctors in the country and the wider region.

With a projected built-up area of 110,000 m2, the new healthcare complex will include a university hospital with 330 beds and 72 outpatient clinics, a children hospital, and a medical school with a total capacity for 600 students and a projected annual student intake of 100 students. By providing access to distinguished medical education, the project also seeks to build medical competencies aimed at graduating a new generation of doctors, researchers and future leaders in medicine.

Elsewhere, the project is expected to create more than 5,000 permanent employment opportunities, and up to 7.5% of its revenue will be dedicated to driving research and development in Jordan.

Dr. Mahmoud Sarhan, CEO of SJFMEI, said, "Signing this contract with one of the most prominent international companies in the fields of engineering design and supervision, represents a major step towards the execution of the Healthcare Project, which seeks to contribute to enhancing healthcare services and medical education in Jordan and the region, in addition to strengthening Jordan's position in these sectors on regional and global levels."

A new hub for medical research and global partnerships

One of the project's main objectives is to bring global knowledge and expertise into Jordan and contribute to improving the health sector in the country and beyond.

As such, the new healthcare complex will also include five medical centres of excellence, focused on providing expertise in cardiology, oncology, neurology, gastroenterology, and orthopaedics, while also focusing on advanced scientific research through establishing four scientific research centres in genomics and precision medicine, stem cells and regenerative medicine, health systems and public health, and bioinformatics.

Leading healthcare design in the region

Dar and Perkins&Will will bring the planning and design services and research-driven processes that have made Dar Group the #1 international design firm in healthcare for over 10 years. The companies have worked together on numerous projects within Dar's portfolio of 20 hospitals (with around 3,400 beds) delivered since 2015. With global partnerships combined with an intricate knowledge of the local context of Jordan, Dar and Perkins&Will are uniquely positioned to support the transformation of Jordan's healthcare sector into an ambitious and innovative hub for medical services and research for both Jordan and the region.