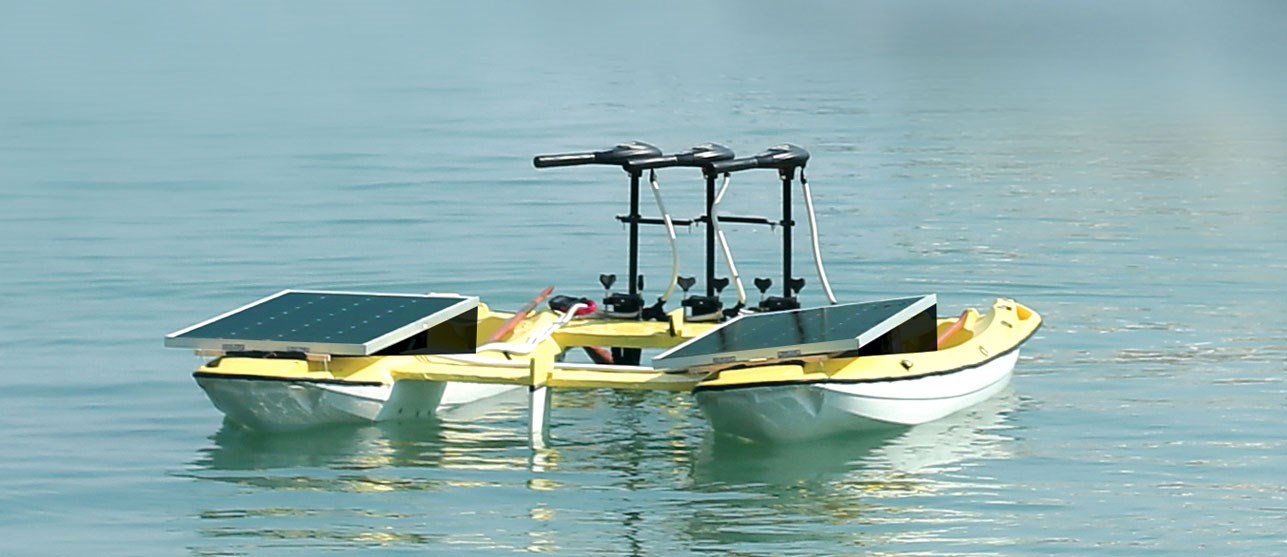 Date04.08.19
CompanyDar Al-Handasah (Shair and Partners)
LocationLebanon Middle East
On August 4, 2019, the Lebanese Ministry of Energy and Water hosted its first ever solar boat competition, as part of the Extreme Energy three-day event held at the Chabrouh Dam in Faraya. Bright Future, a team composed of students and Dar engineers and architects, represented the company at the competition, using a solar boat that was assembled under the full sponsorship of Dar. The technical specifications of this boat could be found here.
The Dar team included architect and coordinator Raymond Boustany, electrical engineers Rami Ghazali and Nicolas Madani, and façade engineer and naval engineer advisor, Daniel Zoghby. These professionals supported the student team which included Antoine Mehanna, Roy Abi Nakhoul, and Richard Malha. Operating the boat was the duo of Bachir Borkhoch (expert kayak driver from Kayak Lebanon) and Yara Bissani (Dar architect). The design and branding of the solar boat and the team's apparel was provided by graphic designer Elie Skaf.
On the day, five solar boats were launched from the starting line when Minister of Energy and Water Mrs. Nada Boustani gave her signal. The objective was to complete a track of two laps (1.6 km each) in the shortest possible time.
First place went to RCG (12 minutes), a specialised expert services firm dedicated solely to the global renewable energy industry. Dar and Bright Future placed second with a best lap time of 13 minutes. In third place was BUTEC Utility Service (BUS), one of the three distribution service providers commissioned by Electricité du Liban (EDL) to maintain and operate the electricity distribution grid.
Earning second place, with such quality competitors in the fray, is a huge win for the team, whose passion and hard work overcame the obstacles posed by their lack of specialised experience. Congratulations to all those who contributed to this achievement!
Click here for a video showing the construction of the solar boat and events on competition day.