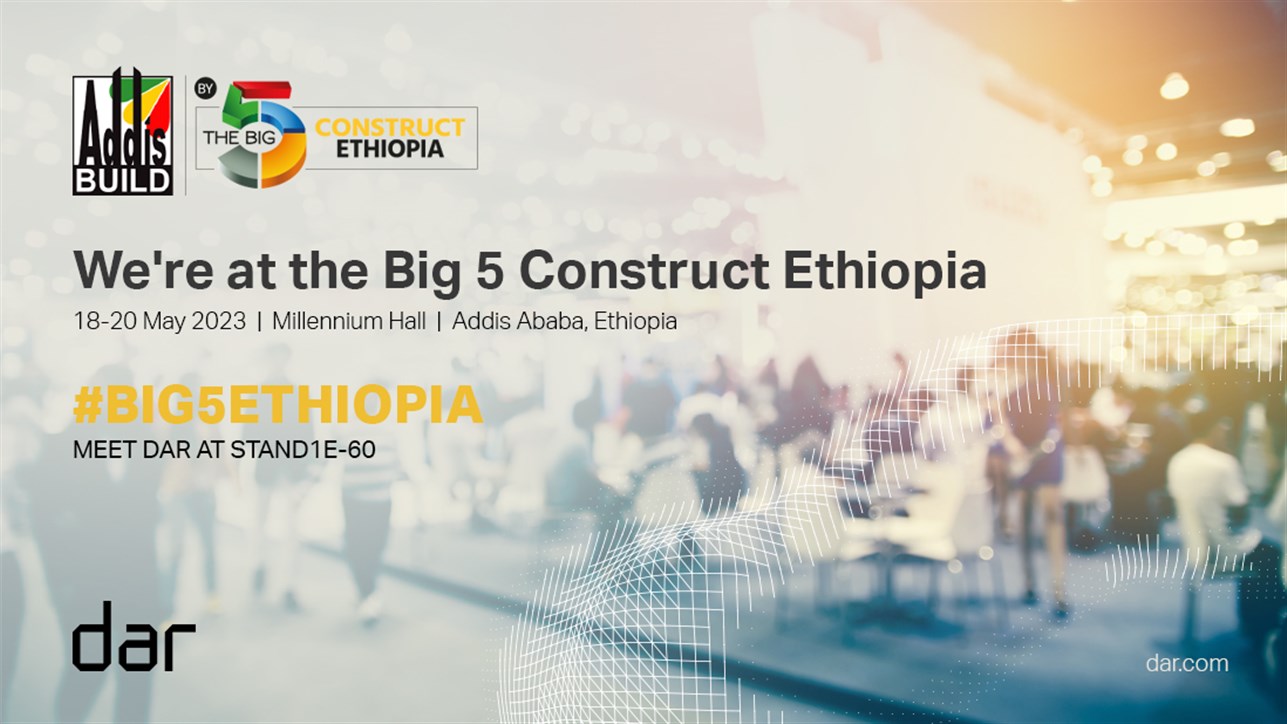 Date18.05.23
CompanyDar Al-Handasah
LocationAddis Ababa, Ethiopia Africa
Ethiopia's construction industry is in the spotlight this week as the country hosts the annual Big 5 Construct Ethiopia exhibition, taking place between 18th and 20th of May 2023 in Addis Ababa.
Dar is a bronze sponsor of this year's exhibition, which aims to strengthen the construction sector, support Ethiopia's economic growth and guide the country's sustainable development. As the largest international construction event in Ethiopia, the exhibition brings together over 6000 building, construction and infrastructure professionals to present and discuss innovative solutions to local infrastructure needs. The exhibition is endorsed by the Ministry of Urban and Infrastructure and supported by the Ethiopian Construction Works Corporation (ECWC).
"Dar is incredibly excited to be joining Big 5 Construct Ethiopia to engage with leading stakeholders in construction, share our expertise on how digital transformation can empower the construction industry, and showcase how world-class design and engineering – combined with leadership in sustainability and innovation – can drive sustainable, equitable and ambitious development in Ethiopia and beyond, to all of Africa," said Tariq Al-Qanni, Dar's Director of Operations for Ethiopia, the Democratic Republic of the Congo, and Uganda.
Dar's involvement in the exhibition highlights its ongoing commitment to Ethiopia and the wider African continent. Since 1977, Dar has supported Ethiopia and the East Africa region in over 40 projects covering airports, transport, schools, industrial cities and more.
Recently, Dar supported the development of the Africa Manifesto for Sustainable Cities and the Built Environment. Developed with extensive support from Dar and Dar Group, the draft outlines policies that African government officials and business leaders must implement to build resilient, equitable, socially inclusive, and environmentally sustainable built environments for the continent's communities.