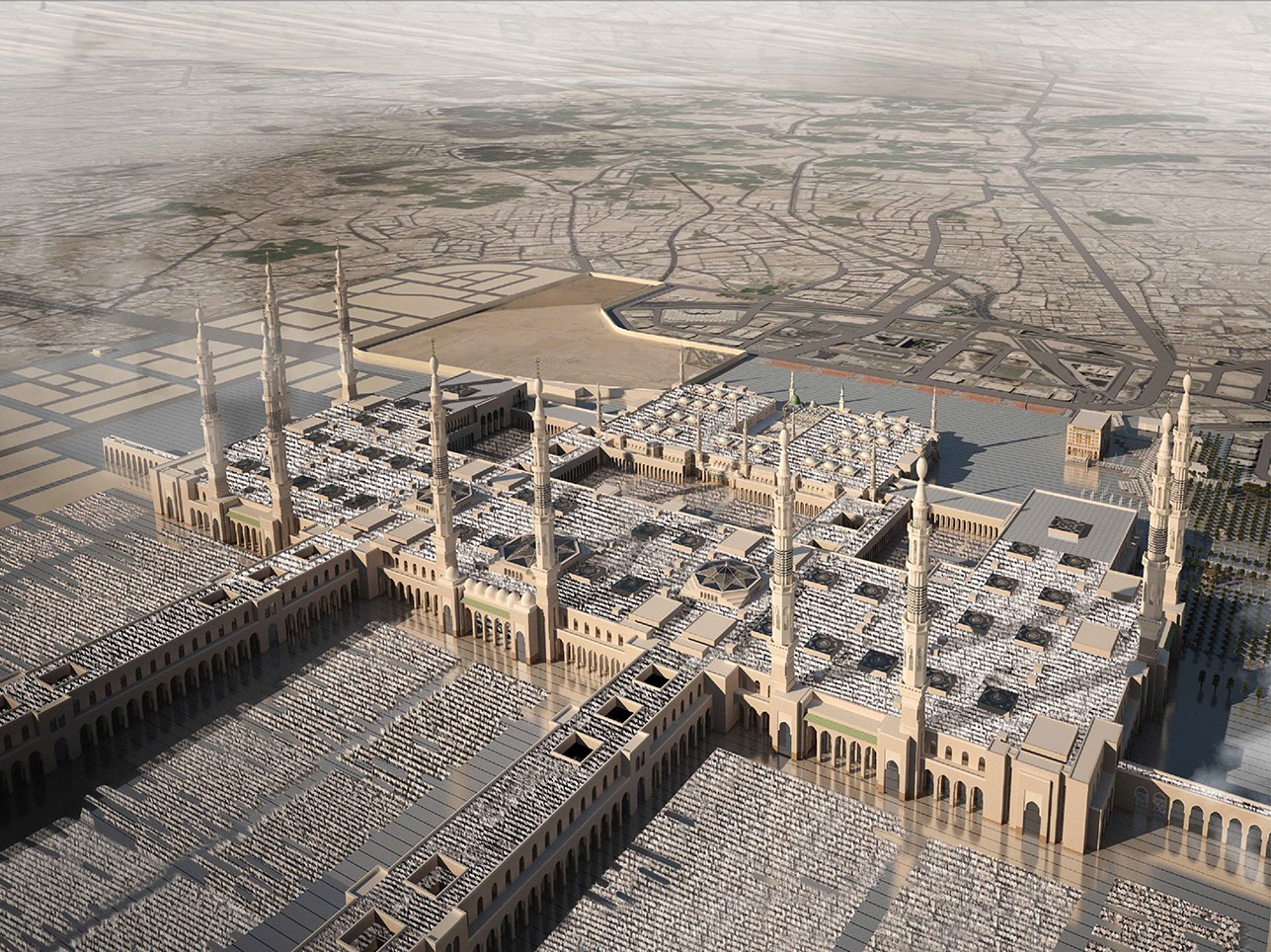 Al-Arabiya TV has broadcasted a fascinating report on the underway development endeavors approved by the Custodian of the Two Holy Mosques King Salman bin Abdulaziz Al Saud to meet the growing conditions and needs of society, and ensure that pilgrims and visitors from here and abroad can visit in safety and comfort.
The report has covered three of Dar Al-Handasah most prestigious projects; those projects are being designed, supervised and facility managed by Dar.
Prophet mosque expansion (Third Saudi Expansion), this project involves the expansion of the Prophet's Mosque, its Piazzas and related elements; it is considered the largest expansion introduced to the prophet mosque of all time. Upon completion the expansion will increase the overall mosque capacity to over 1,600,000 worshipers, by adding about 1 million square meters to the existing mosque and piazzas.
Earlier this year, King Salman approved Darb Al-Sunnah Project which is meant to revive Prophet Mohammad legacy by connecting Quba mosque and the Prophet's mosque. The project does this through a modern development and a visual pathway anchored by several cores. With overall length of 3km and a width of 300m the project is creating a cultural and social artery in the Madinah. This development will go hand in hand with identifying, recording and documenting religious, cultural and noteworthy architectural sites, as well as working diligently to protect and preserve them according to the highest world standards, which is of utmost importance.
Ministry of Finance (MOF) is funding the urban development of the area surrounding Darb Al-Sunnah to lift it from its current deteriorated urban conditions to a state that is up to the spiritual and historical position of the Prophet Mohammad city. The expropriation is ongoing and the evacuation works are scheduled to start by the beginning of next HIJRI year.
Dar Alhijra (Haj City) is a significant project for Madinah city, designed to support its importance as a destination for visitors and pilgrims. The project is built by the Public Investment fund (PIF) on a 1.6 million m2 site that is located 3 km southwest of the Prophet's Mosque, 3 km away from Miqat, and 900m away from Quba mosque.
The construction works are ongoing under Dar supervision and upon completion; Dar Alhijra project will be able to accommodate approximately 120,000 visitors in 82 hotel buildings, and 31,000 employees in 12 office buildings. The project also provides a 400-bed hospital complex, a retail mall, and a transit station with a peak capacity of 84,000 person/hour.
To watch the Al-Arabiya report, Click here
To check the related press releases, Click here