An existential challenge
Climate change is one of the greatest challenges currently facing our global communities. And experts concur that only a visionary, far-reaching drive to achieve net zero global emissions by 2050 can offer hope for a sustainable and bright future.
At the 26th Conference of the Parties (COP26), objectives were set out to secure global net zero by 2050 in order to keep climate change to within the tolerable 1.5 degrees. COP26 is calling for an altogether greater level of global and local collaboration. 74 countries, accounting for more than 80 percent of global GDP and 70 percent of global CO2 emissions, have put net-zero commitments in place. They are joined by over 700 cities and 3,000 companies that have made net-zero commitments as part of the United Nation's "Race to Zero" campaign.
A recent report, prepared in collaboration with our international Dar Group and our partner the World Green Building Council, stated that the built environment – comprising both buildings and the infrastructure that supports community life – must be on a clear path to decarbonise by 2050, with significant progress by 2030. The council also stated that we cannot decarbonise buildings without infrastructure and called for a more closely aligned approach to sustainable buildings and infrastructure, in pursuit of shared climate and sustainability ambitions.
The necessity for urgent action in the building and infrastructure sector is particularly clear. The urban built environment is responsible for a staggering 75% of annual global greenhouse gas emissions and up to half of all resources extracted for global materials are used for housing, construction, and infrastructure. And the sector is only growing: the UN estimates that 230 billion m2 of new buildings will be constructed over the next 40 years while 75% of the infrastructure that will be needed by 2050 is yet to be built.
Meanwhile, our cities are responsible for 71-76% of energy-related CO2 emissions. The carbon emissions in cities are generated through activities including the construction and operation of buildings and the movement of people, goods, and services. We must take significant and rapid action to ensure our cities and communities play their part in limiting dangerous global warming, so that we can cope with the climate challenges ahead.
With our expertise in planning, design, engineering, and project management, we at Dar recognise our responsibility to contribute to achieving these global goals. For this reason, Dar has signed the World Green Building Council's Net Zero Carbon Buildings Commitment, which sets a vision for all buildings to operate at net zero carbon by 2030.
Our commitment underpins our own race to zero, and sets out how we will help our clients achieve zero carbon across their assets and portfolio. As the founding member of Dar Group, Dar will also work with sister companies – such as Integral Group, Perkins&Will, Currie&Brown, and various others – to combine insights and capabilities to offer our clients the industry's latest research and cutting-edge expertise.
Our five pathways to net zero
1. Providing advisory for net zero emissions




Achieving net zero carbon emissions for a major development or on a national or regional scale requires extensive planning and new guidelines and procedures. Dar works with governments and stakeholders to develop these roadmaps and guidelines, setting implementable plans and targets and paving the way for net zero and carbon neutrality. Our roadmaps prioritise maximising efficiency, resilience, and innovation with a focus on establishing low-carbon supply chains and procuring clean, renewable energy.
Spotlight project:
NEOM – achieving net zero development strategy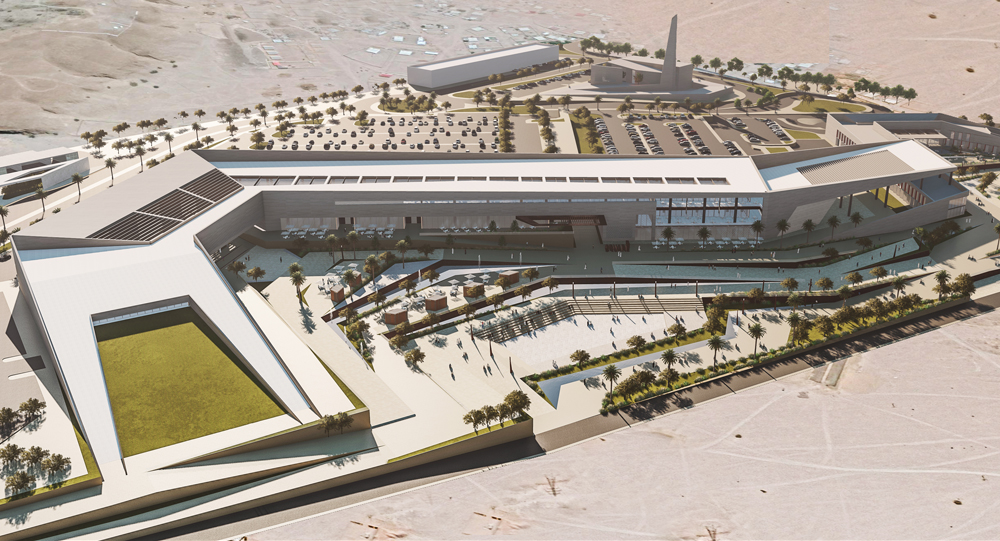 For the planned cross-border city of NEOM, Dar prepared the guidelines and roadmap for achieving net zero and carbon neutrality as part of NEOM's overall strategy. The roadmap covers lifecycle analysis, energy targets, water reduction, waste management, and material selection for all of NEOM's future asset typologies.
2. Building our future: A net zero built environment




Building and construction alone are responsible for 39% of all carbon emissions in the world. These are unprecedented challenges that we must overcome in order to accelerate the transition to net zero. Measures to reduce emissions from the built environment should include a focus on design of buildings, which includes pushing for decarbonisation and new innovations in building materials.
Dar's architects, designers, and engineers work with clients to create new developments that meet today's ambitious climate targets. We empower our partners by accounting for both operational carbon (carbon emissions related to building operations) and the more problematic embodied carbon (or carbon associated with building materials and construction).
Our scope also covers identifying, assessing, and validating project-specific resource conservation measures that are specifically tailored to each project's typology and climatic conditions. We then supervise construction to ensure compliance and support our clients through the continuous measurement and reporting that can effectively verify performance and environmental emissions to ensure that adequate actions can be taken at the right time to achieve the ultimate target of net-zero carbon emissions across the lifecycle.
Quick victories:
70% reductions in emissions related to building operations are easily achievable and cost-effective, across building types.
10% reductions in embodied carbon are achievable at little cost premium, through structural optimisation and mindful material choices.
Project spotlight:
Kingdom of Saudi Arabia "Window to the World" Pavilion – Expo 2020 Dubai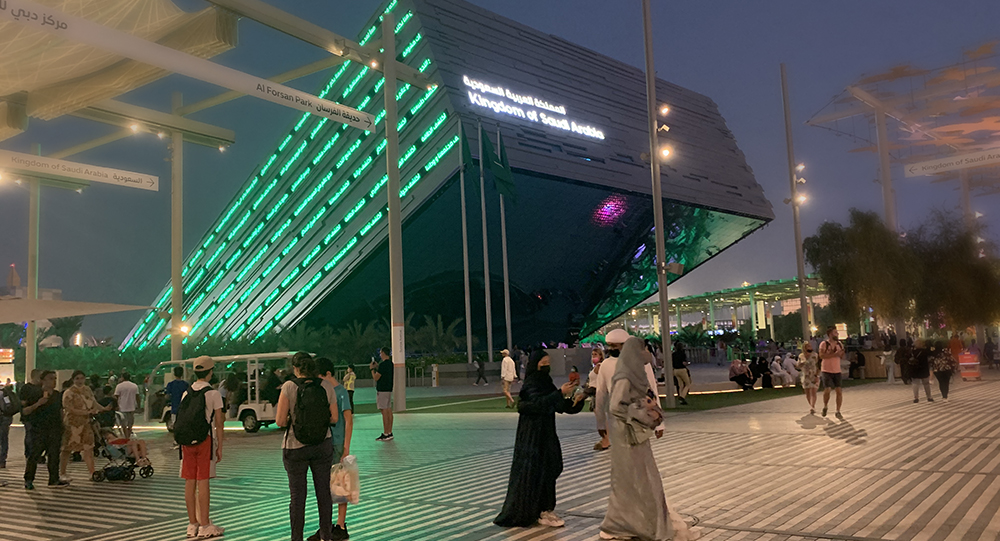 The Window to the World Pavilion was designed to be one of the world's most sustainable developments and was granted LEED Platinum certification. Through an integrative analysis, Dar's team was able to deliver a state-of-the-art design that focused on adaptability and longevity – prioritising water and energy efficiency, reducing emissions, and preventing waste, all while delivering inspiring spaces that translate a higher ideal of helping people and the communities they reside in thrive safely and sustainably.
3. Scaling low-impact transportation solutions




Achieving net-zero emissions by 2050 is the most significant challenge of our generation, and decarbonising the transportation sector is one of the main pillars of this effort. At the moment, a quarter of global emissions come from transport including road, rail, and air transport. Taking action, scaling up investment into decarbonisation, and popularising sustainable transport options from EV infrastructure to walking and cycling, will reduce emissions, noise pollution, and traffic congestion – improving quality of life and contributing to a sustainable future.
Our transportation planners and engineers promote sustainable mobility options in everything from national transport master plans to single building designs – creating frameworks that can scale up investment in decarbonisation and incorporating green mobility options, intelligent transportation systems, electric vehicles, pedestrian-oriented and shared mobility solutions, all the way to futuristic net-zero transportation options such as the Hyperloop.


Project spotlight:
Hyperloop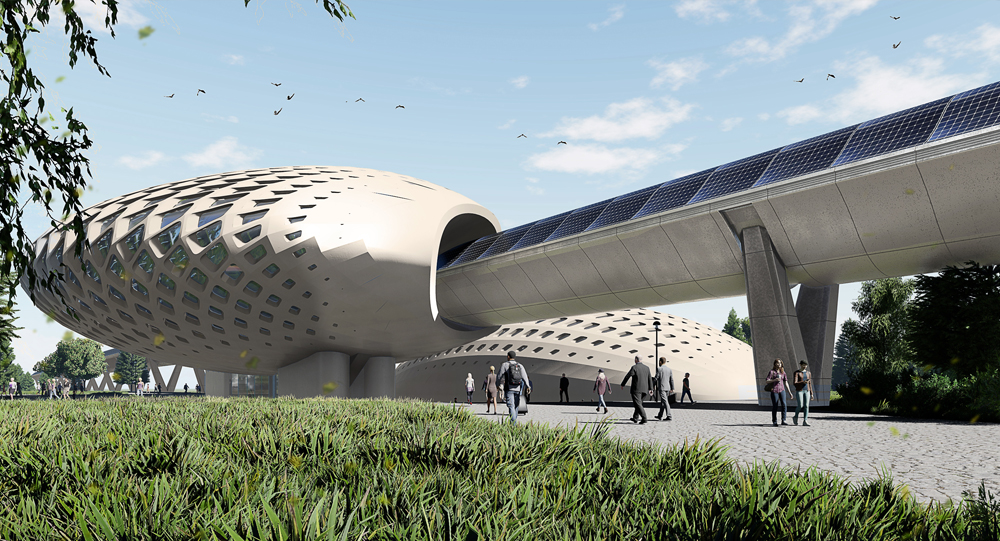 In 2021, Dar and HyperloopTT revealed the first-ever completed full-scale designs for commercial hyperloop systems, paving the way for the zero-emission transportation infrastructure of the future. Drawing on nature-inspired design innovations and featuring optimised solar panels, the concept surpasses LEED Platinum standards and ushers in a new era of net-zero transportation. Reaching an astounding maximum speed of 1,220 km/hour, the Hyperloop not only shrinks hours of commute into mere minutes but is also one of the world's greenest and most sustainable modes of mass transport.
4. Transitioning to renewable, clean energy




The energy transition is a pathway toward transformation of the global energy sector from fossil-based to zero-carbon by the second half of this century. While this transition is already underway, further action is needed to reduce carbon emissions and mitigate the effects of climate change. And according to the IRENA, renewable energy and energy efficiency measures can potentially achieve 90% of the required carbon reductions, paving the way for humanity to mitigate the effects of climate change.
For these reasons, Dar champions sustainable and renewable energy in all of its forms: from established powerhouses such as hydropower and solar energy to highly promising new technologies such as green hydrogen. From nation-wide strategies to targeted interventions in off-grid and remote communities to building-level designs, we use our expertise to accelerate the global transition to renewable and clean energy.


Project spotlight: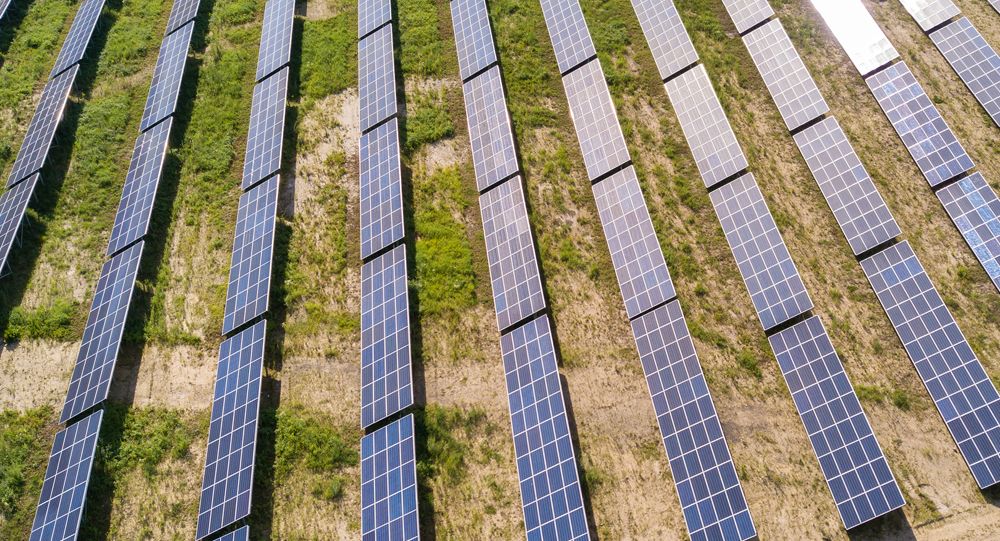 Through the largest integrated, public, renewable energy intervention programme in sub-Saharan Africa, Dar is providing consultancy services to facilitate the construction of seven photovoltaic power plants with one million solar panels, designed to deliver 370 MW of clean, sustainable, and reliable energy to over one million people in Angola.


5. Walking the walk



Our commitment to sustainability begins at home with high targets for our own built assets, comprehensive and ambitious capacity-building programs for our people, and wide-ranging thought leadership initiatives through partnerships with researchers and industry leaders across the globe. We are proud signatories of the UN Global Compact. Moreover, as a member of Dar Group, Dar will back the goals and commitments of cities in support of the Clean Construction Declaration, working closely with cities around the world on their sustainability ambitions and supporting clients in delivering climate solutions on buildings, transportation, and water infrastructure projects.
Our commitments

Promoting a low embodied-carbon approach and net-zero carbon pathways in the work we deliver to clients.
Operating new and existing buildings, within our direct control, at net zero whole life carbon by 2030.
Designing all of our new facilities and assets in-house to achieve the highest possible levels of green building certification.
Designing all future renovations of Dar's existing facilities to be certified (for example, under LEED Operation and Maintenance).
Preparing professionals from all trades to comply with high sustainability requirements and achieve all levels of sustainability certification, as required by company policy or client requirements. A company-wide timetable was established and is currently underway for all Dar professionals in related disciplines to become green-certified professionals.
Engaging with international entities such as the World Green Building Council to develop and promote best practices.
Undertaking sustainable initiatives for resource efficiency, adequate management, and carbon footprint reduction.

With these measures and others, we hope to ensure that we promote a culture of sustainability at home while also empowering our people to contribute extensive expertise to the clients and communities we serve.