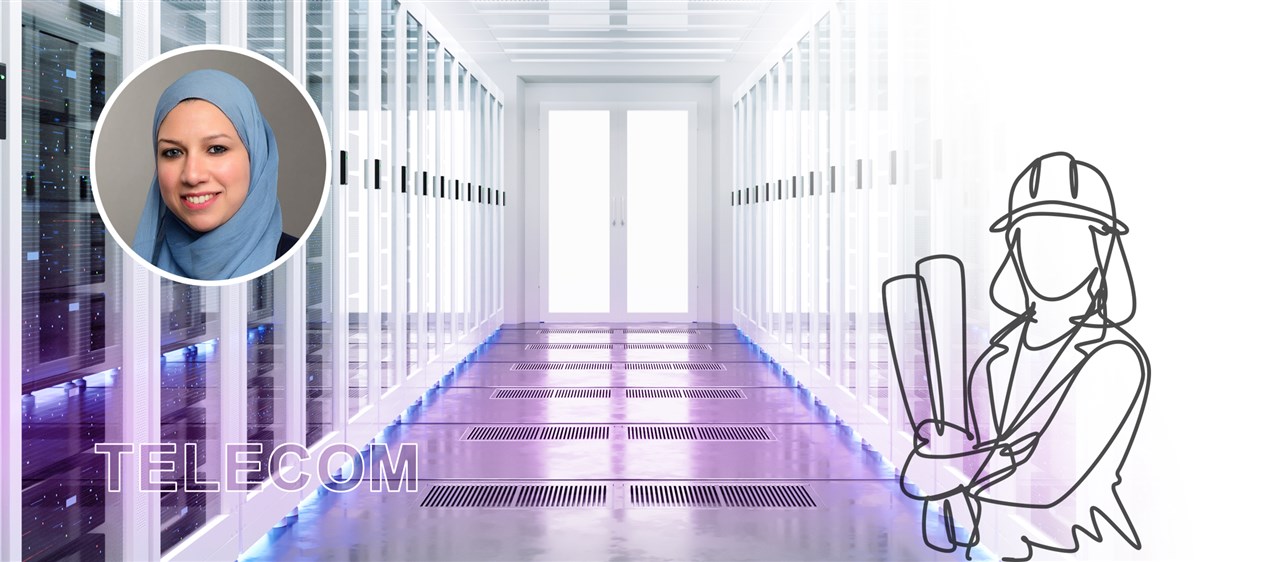 Shaimaa is a senior telecommunication engineer and Registered Communication Distribution Designer who specialises in data centre design.
1. What drew you initially to telecommunications engineering? And what's motivating you to remain in this field today? (What do you enjoy the most about your job?)
Ever since I was a kid, I have been obsessed with engineering. When I enrolled in college, my general passion for engineering became a specific love for the telecommunications sector – I love the continuously evolving technology and the fact that every day, we, as telecommunication engineers, experience new innovations, new systems, new technologies, and new visions.
2. You are a Registered Communication Distribution Designer – tell us a little bit about what that means and why it's so important.
The RCDD certification is one of the most reputable in the field. It addresses a wide range of ICT and ELV systems from the standpoint of the industry's recognised international standards. The certification demonstrates that the designer has the knowledge and expertise required to plan, design, integrate, and execute telecommunication and ELV systems in accordance with the latest standards.
Regardless of certificates, Dar adopts international standards as well as the latest technologies and best practices in our projects. However, the fact that we have such globally-recognised certifications gives our clients more confidence that the designs we can create for them are up to date and comply with the industry's latest applicable standards.
3. Shaimaa, you are also a Data Centre Design Consultant. Tell us about the field of data centres. Why is it growing so fast at the moment? Why did you choose to pursue this certification?
The field of data centres has exploded in recent years, especially since most organisations are heading to cloud platforms and hosting data centres. A hosting or collocated data centre is a shared space that enables the use of the same services, features, and capabilities from a hosted platform external to the on-premises data centre or IT infrastructure. Hosting data centres provides the infrastructure and security of a dedicated data centre with efficient CAPEX and OPEX. As a consultant, Dar has the capability to design a future-proof data centre with infrastructure that can serve over 25 years in compliance with the international codes and standards.
My passion for data centre design started while I was working on the design of a main data centre and transportation command centre that connects all transportation systems in one of the Middle East's major capitals. This project was designed by one of the specialised Dar Group companies. This experience took place early in my career, and it was my first step towards the world of data centre design, and since then, I decided to learn it step by step by pursuing Data Centre Design Consultant and Accredited Tier Designer certifications.
4. Tell us about a project that you engaged in – either professionally or personally – that impacted you significantly or that you are most proud of.
The project that impacted me most was the very first project I undertook as a professional: the Qanat Quartier Qatar, a sub-project of Qatar's landmark Pearl development. The project comprised 10 residential plots on islands separated by man-made canals, 188 townhouses grouped in 30 clusters, in addition to 32 apartment buildings. It was a fast-track project characterised by its luxurious character. For this project, our telecommunication team incorporated high-end smart city solutions and various new technologies, many of which were introduced for the first time in this project. It was a challenge during the early 2000s to incorporate such technologies in the design.
5. And finally, what would your advice be to a girl thinking of a future in telecommunications engineering?
Working in telecommunication engineering is enjoyable and demanding. Work life balance is tricky especially for females. The clue is time management: how to plan and control every single moment. People say "time is money;" I say, time is much more precious than money, it's our life so we should be careful how we are spending and enjoying every second. The better you manage your time, the more you will be able to enjoy your life and achieve your goals.