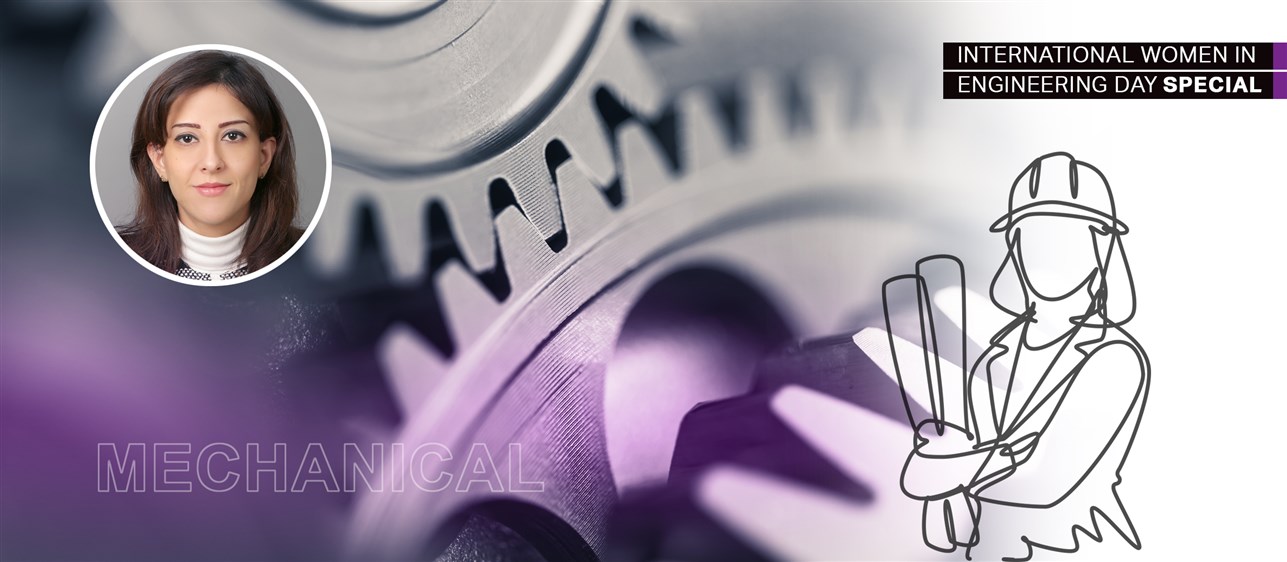 Jinan Abou Rabia is a senior mechanical engineer.
1. What drew you initially to mechanical engineering? And what's motivating you to remain in this field today?
As a high school student, I was always more into physics and numbers than cultural studies or biological sciences. So, I was decided on pursuing a degree in that direction, and mechanical engineering seemed to be an interesting challenge. Honestly, at that time I didn't really know much about it, but I was lucky enough to love it when I did.
What keeps me in the field today is the satisfaction; be it in the company/environment I work in, or the rewarding feeling of pride every time the efforts materialise into a successful real-life project.
2. What does your approach to a new project look like?
Every time I am assigned on a new project, there is a new flow of energy and new motivation to make it a success. The first step is to study the project's components, its challenges and particularities, and the client's anticipations and expectations for it, and start working on the concept that would optimise the performance. Then we work on building the team, assigning the tasks, and scheduling things to make sure we are on track for deadlines.
Each project usually goes through several stages, which might differ slightly, but the traditional/common track is concept, preliminary design, and detailed design. All stages involve extensive coordination with other trades and disciplines and particularly the architects and the electrical and structural engineers. We use several software depending on the task (carrier E-20 HAP for cooling loads, elite for fire hydraulic analysis, and many others).
The most challenging moments in a project are times close to submission, when everybody is working hard to finalise and deliver to the highest quality standards. And of course, during presentations done for clients!
3. With Dar, you have worked on many different types of projects (Airports, eco-resorts, destination hotels, educational facilities, etc.) What are the types of projects that you have found most demanding?
Each type has its own challenges, but airports are the most challenging in my opinion because of the large-scale systems, the diversity of specialised systems, and the variety of services and operations. Healthcare projects are also challenging, and have unique requirements of their own.
4. Tell us about a significant engineering challenge that you faced and resolved.
In one of the projects, our scope was developing a tenant's area that was located within other developed and operational functions. The design was developed based on as-built drawings that turned out not to be accurate. When site works commenced, our works affected the adjacent operational functions, and so we had to take immediate remedial measures and adjust our design to correct the situation, and bring the operations and systems adjacent functions back to their original state. Time was a challenge, as were the existing conditions and the design amendment and variation orders to be coordinated with the contractor, but we were up to it and the necessary works were done in time.
5. What was the most memorable project you worked on? Tell us about a project that you engaged in – either professionally or personally – that impacted you significantly or that you are most proud of.
All projects have impact, but the first one I worked on was a well-known luxurious hotel in Dubai, so I feel proud it was my first success in this domain.

6. How do you see the future of the mechanical engineering profession? And what would your advice be to a girl thinking of a future in mechanical engineering?
Engineering is a field that keeps moving forward and prospering, because science has no limits. The way we do things and the tools we use might differ, but the field will always be a bright one for engineers who love their work.
For a girl thinking of a future in mechanical engineering, I say: just think of it like you would think of any other profession be it teaching, medicine, business, or any other. If you are interested in the domain, go for it. And always remember, all professions need dedication and some passion for success!